Steelie Car Mount Kit
Company: Nite Ize
Price: $34.99
I'm that kind of guy who gets excited about the little things, and when I say little things, I mean products like the Steelie Car Mount. Since I purchased my first car a couple of months ago I've found that I was always fussing with my phone while driving and we all know this can be very dangerous. I keep my phone plugged into the AUX jack so I can hear my synced music throughout my car. My only problem was when I wanted to change a song or do something on my phone I'd have to search for it while my eyes were on the road.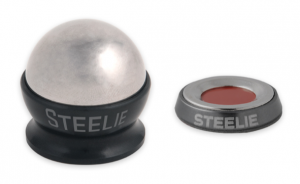 I first solved this problem by buying a big, bulky, plastic mount for my phone that connects to the air vent. There are two reason why I dislike vent mounts. One is that when the mount is connected to the vent it usually leaves the vent non functional and your Heating/Cooling won't be able to effect the cars interior because it's constantly hitting the back of your mount. Secondly, on average most air vent mounts have gears inside of them so they can adjust to your phones size. Since there are gears, you either have to squeeze your phone into the right fitting of the mount or something along those lines. This makes it hard when you want to remove your phone from the mount on the go.
On the left was my first solution to a car mount, and on the right is the new and improved car mount by Nite Ize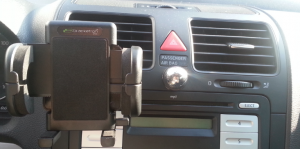 Nite Ize has come up with a revolutionary product to solve all the issues that I established above. There are two pieces to this kit. One looks somewhat of a type of magnetic ball bearing and the other piece is a concise metal attachment that sticks onto the back of your phone. To attach this mount to your car you use the included 3M tape that is already preinstalled on the two pieces. You take the magnetic ball bearing piece and place it on a flat surface on your car and the other piece is mounted on your device however you please (the most essential placement for the mount on the phone would be the very center or where ever your phone is most balanced). When your phone is placed on the mount, it has the ability to move in all degrees of direction and even do a full 360 spin. The Steelie Car Mount allows for you to attach your phone to the second mounting piece within seconds and detach within seconds while keeping it safe and secure.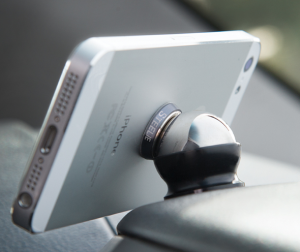 While using Steelie Car Mount, I was very pleased at how well it managed to stay on the magnetic ball bearing style piece. I own a Galaxy SIII and it isn't a small phone so you would expect it to just drop when hitting a pot hole or doing a quick turn but from what I found, I had absolutely zero problems with that. The phone stayed there as if it were in any other mounting vent cradle.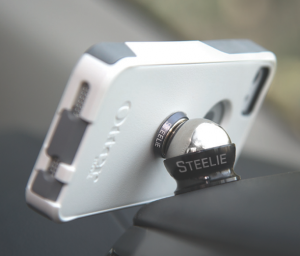 Some cons I have with this product is that Nite Ize only sends you one attachment for one phone to be on the mount. Since the piece you attach to your phone is attached with 3M tape, there is no way to switch it between phones, let alone cases. So what I did is made one case my dedicated case and attached my piece to the back of that. It is disappointing that there is only one mounting piece, making your choices for switching cases limited to only one, unless you want to apply new 3M and tear up the old to apply it to a new case, but honestly who wants to go through all that hassle?
My MyMac rating for this product 8Â out of 10