Mac Hacks – Tips & Tools for Unlocking the Power of OS X
Author: Chris Seibold
Publisher:Â O'Reilly Media
Price: US $24.99 (print) | US $19.99 (ebook)
330 pages
ISBN: 978-1-449-32558-9
The cover of Mac Hacks features a Swiss Army knife, which is very fitting given the breadth of topics this book addresses. The hacks covered in this book range from Quick Hacks for Mountain Lion to Give Your Polycarbonate Mac a Dye Job. But whether you consider yourself a "hacker" or not, this book contains some great information that many Mac users will find useful. Topics like Create a Great Backup and Create a Bootable Flash Drive should be of interest to many Mac owners.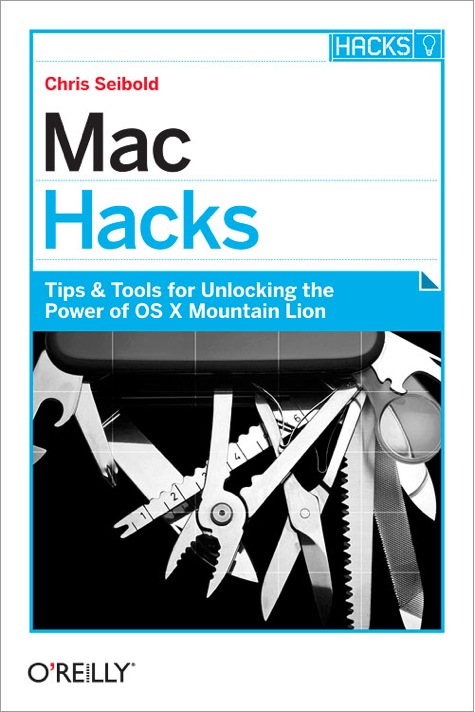 Mac Hacks has information for a variety of interests: hardware, software, OS, networking, security, multimedia are all addressed. Each chapter focuses on a specific hack and provides clear instructions and supporting photos or screenshots. I found the instructions easy to follow and they often had an enjoyable bit of snark and playfulness to them.
There are a total of 52 hacks covered, so you've got your weekends sorted for the next year if you'd like. Some are quick and easy, while others are more involved and frightening. If you're uncomfortable doing a hack, don't do it. But the book often cautions you when things could go bad and gives advice on how to remove a hack if necessary (or just wanted) too.
If you want to tweak your Mac and make it your own, or push your knowledge and skills just a bit further, Mac Hacks is a great guide. Even if you only give just a couple of the hacks a try, it is worth the time and money for this book.
MyMac.com Review Rating: 8 out of 10