Chef Sleeve Disposable iPad Sleeves
Company: Chef Sleeve
Price: $19.99/25 sleeves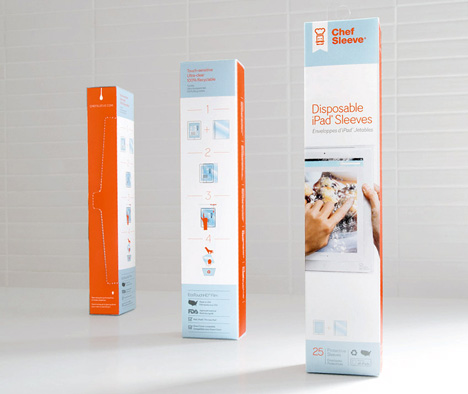 Anyone who cooks knows how messy the kitchen can get. Some people may be afraid to use their iPad in the kitchen for fear of ruining it. The folks at Chef Sleeve came up with a great solution to this problem: Chef Sleeve Disposable iPad Sleeves.
The premise is simple: insert your iPad into a Chef Sleeve Disposable iPad Sleeve (abbreviated below as simply Sleeve), remove the sticky strip, seal the sleeve, start cooking. The Sleeve is thick enough to protect the iPad, yet thin enough to easily swipe and read the screen. All ports and buttons are covered and out of harm's way.
A Sleeve can be used more than once, and if it gets dirty, simply wipe off with a damp cloth. Once it gets really messy toss the Sleeve in the trash.
I've used one Sleeve four times and it still looks good. I had no trouble reading my iPad screen, and swiping was just as easy with the Sleeve on as it is without it. Zooming in and switching to another app was flawless. My iPad was completely protected and usable despite my, shall we say, messy cooking technique.
At $19.99 for 25 Chef Sleeve Disposable iPad Sleeves, some people may consider the price a little high. But if you love to use your iPad in the kitchen, $19.99 is a small price to pay to keep your iPad clean while you create a culinary masterpiece.
MyMac.com Review Rating: 8 out of 10