Johnny Winter – Follow a Legend
Company: G-Men Productions
Version: 1.3
Compatible with: iPad
Requires: iOS 5.1 or later
Price: $7.99
The Johnny Winter app for iPad is an impressive collection of information on the legendary guitar player and his music. This app is for experienced guitar players or general fans of the performer. While it will teach you how to play in Johnny's legendary style, it isn't intended to teach the basics of guitar playing.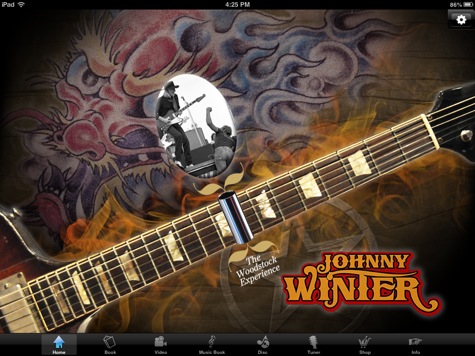 With that caveat out of the way, this is an amazingly diverse app that offers everything from a "book" on the life of Johnny Winter, to lessons on how to duplicate his style, sheet music to play along with, and a discography along with the ability to purchase albums with just a few taps.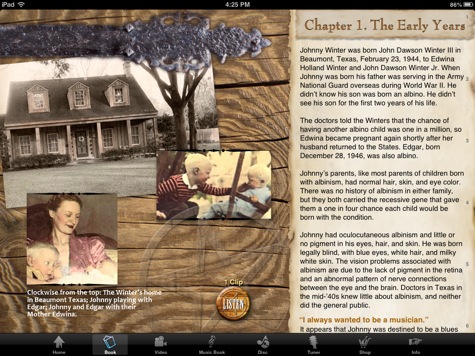 For Johnny Winter fans, this app offers a great overview of the musician's life and career. There is text with photos as well as video and audio clips including concert and backstage footage. Also included are interviews with Johnny and Muddy Waters, among others. The app does link to some YouTube videos and it does appear that some of those have been taken down, but most are working. There is a complete list of albums with information on each. A quick tap will take you to iTunes where you can make a purchase. A store is also included where you can make some in-app purchases, but fans will be more interested in the merchandise such as t-shirts and artwork that is available. I had problems connecting to the store.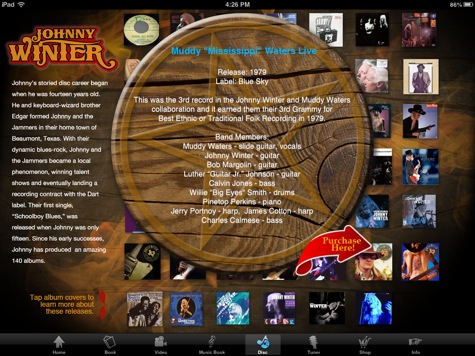 For musicians, this app offers everything from a basic tuner, but in four keys, to video lessons, to play along sheet music. The Music Book portion of the app starts with the scales (it always starts with scales, doesn't it?), and then progresses into rhythm and bends that are such a big part of Blues music.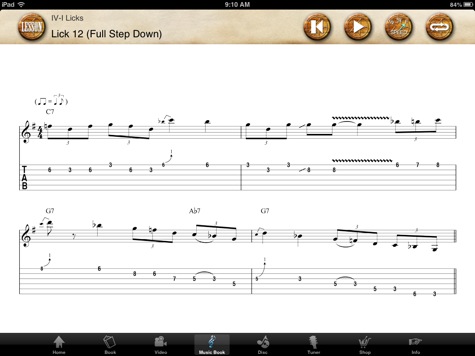 The Music Book sheet music has notation that is easy to understand and follow along. You can alter the speed and choose to play it in loops. You can even set break points for the loops to repeat a particular section. There are notes for each lesson and somewhere over 50 lessons are included. Additional lessons, both sheet music and videos, are available for purchase for no more than $2.99 each.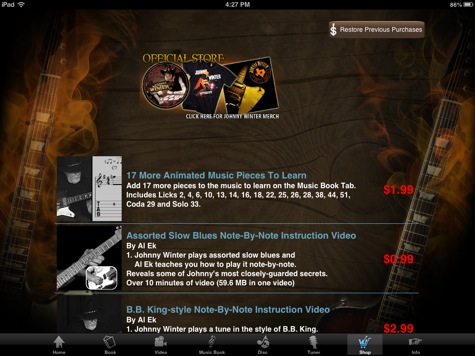 There are times when the navigation of this app is a little unintuitive. Swipes and pinches don't work as anticipated or they are a little slow on my 2nd-gen iPad. I would love to be able to zoom in on the sheet music as it can be difficult to see while playing along. But the visual presentation is beautiful.
If you like either listening to or playing the Blues, the Johnny Winter app has a lot to offer. It's priced fairly for what is included and it's a whole lot cheaper than concert tickets.
MyMac.com Review Rating: 7 out of 10