Embrace iPhone Bumper
Company: Esoterism
iPhone 4S
iPhone 5
Price: $89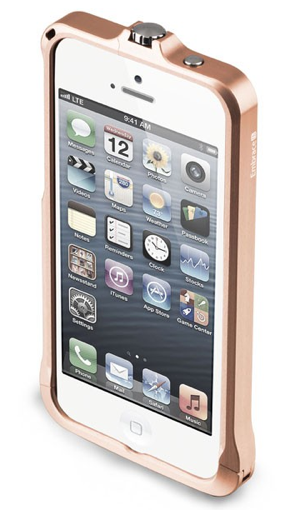 Elisa's note: Vicki Stokes and I were each given an Embrace iPhone Bumper at Macworld 2013 to review. Mine is for iPhone 4S, and Vicki's is for her iPhone 5. Since the only difference is based on the phone size, we're combining our review.
Elisa: There were many vendors at Macworld/iWorld 2013 displaying their iPhone cases. For most, it was pretty much more of the same: customized cases with photos on the back, simple bumpers, and cases made with bright and neon colors. At this point, an iPhone case needs to be quite different in order to get noticed.
Esoterism has created a case that I noticed.
The Embrace is a beautifully crafted aluminum bumper. It needs no tools to attach to the iPhone: simply place the iPhone in the frame, push the ends together at the top, then turn the watch-like knob. All necessary ports and buttons are easily accessible.
I've had an iPhone for over three years. In that time, no one has ever noticed the case I was using. Since wrapping my iPhone with the Embrace, strangers have stopped me, "oohing and aaahing" over the elegant design.
Vicki: Erica Hao, Global Sales Director of Esoterism, told us how the color names were chosen for their products. The design of the Embrace-5 iPhone bumper was inspired by the emotion of embracing another person. The color of the Rosy Cheek bumper I received is reminiscent of the flush of youthful embarrassment. This level of aesthetic is incorporated in the mechanics of every Esoterism product. The tool-less knob design is evocative of the classic mechanical winding of a timepiece.
The company's name, Esoterism, signifies the holding of opinions or beliefs understood by a small group of the especially initiated, or of rare or unusual interest. This is the market the company is targeting; those individuals with a rare sense of aesthetic who appreciate a certain level of detail and inspiration. For buyers so inclined, the $89 price is worth the cost for the experience.
Elisa: Vicki and I agree: the Embrace is the most beautiful iPhone bumper we've ever seen or used.
MyMac.com Review Rating—Elisa: 9 out of 10
MyMac.com Review Rating—Vicki: 9 out of 10