Jaksta Music Miner
Developer: Jaksta Technologies Pty. Ltd.
Retail: $19.95
Jaksta Music Miner

Ever hear a song from an online streaming service that you like and want to learn more about? Perhaps buy the entire album as a result? If you have Jaksta Music Miner on your Mac, you can.
With Music Miner, you simply flip on the app's Monitoring button and the song will be identified and downloaded in a few seconds. In addition, the artist, album, duration, and other details will appear in the app's window. The songs you choose are not just recorded, they are rapidly downloaded at up to 10 times playback speed.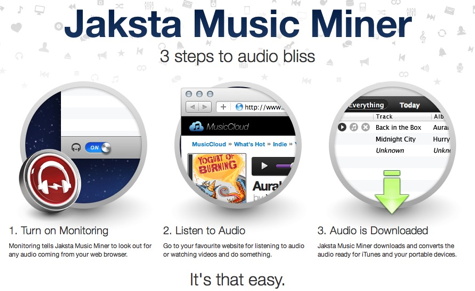 Next to each track are three buttons: Play, Save to iTunes, and Delete. If you choose to save the song to iTunes, it will appear in your library as an MP3 file. It's hard to beat that kind of simplicity. Music Miner has a number of preference settings but those only need to be set once.
This is not merely a recording app, Jaksta Music Miner automatically downloads from online sources and creates an MP3 file from any unencrypted audio or video file that you play on your Mac. This also includes the audio tracks from YouTube and other videos. The only hardware requirement is that you have an Intel Mac running Mac OS X 10.6 or later.
Music Miner was recently developed jointly by Applian Technologies Inc. of the U.S. and Jaksta Technologies Pty. Ltd. of Australia. It can be purchased it by itself, or as a part of the Jaksta Deluxe for Mac Bundle, which also includes Jaksta for Mac, Jaksta Video Converter and Jaksta Music Converter.
If exploring new music is your thing, Jaksta Music Miner just might become an addiction.
MyMac Review rating is 9 out of 10