Exodus On-Ear Headphones with 3-Button Apple Control and Microphone — User Report
The House of Marley
Price: $100 to $150 online (This link is from Amazon's USA product page.)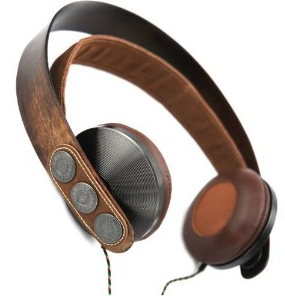 Note #1: This review product appears to be out of stock on the company's web site, although it is available from Internet and retail merchants.
Note #2: You are advised to read other longer and more detailed online reviews of these headphones. These reviews present a fascinating profile of Exodus and additional competitive premium headphones. Some of the reviews have lively writing and caustic reader feedback.
Note #3: Exodus headphones will be too tight on your skull upon removal from House of Marley's exceptionally recyclable packaging. Stretch the ear pieces length-wise across and onto a large box of Kleenex or other household tissue to stretch out the too tight metal spring outer C-frame for as many days as possible before attempting to wear Exodus with comfort. You can connect the audio cable during this frame-stretching period and play a variety of music at medium volume to condition the headphones' speaker drivers, which we recommend for all listening equipment.
The House of Marley claims the Exodus On-Ear Headphones are "noise isolating and eco-friendly." We agree and approve. Ambient noise is not much distraction when listening to music with these headphones that are constructed from mostly natural or recycled, attractive materials.
The fit on your head and ears is exceptionally snug, if not immediately comfortable, due to the spring-loaded metal C-frame. The three-button control and microphone work flawlessly to adjust volume, to pause and advance audio tracks, and to transmit voice in an iPhone conversation.
There is a little miracle happening within Exodus' speaker drivers. Unlike almost every competitor's on-ear and over-ear headphones in every price range, The House of Marley somehow manages to produce bass response that is superior without any obnoxious booming and brain damage. The bass is simply there as part of the complete sonic spectrum without calling any attention to itself. It's about bleeping time, headphone manufacturers!
Initial listening to a new set of Exodus will fool you into thinking midrange and treble presence and clarity are substandard and inferior to the excellent and neutral bass. Stay calm, and condition your headphones with many hours of different types of music playback from your iPod or computer. By day two or three, Exodus' soundspace becomes cohesive, crisp, and complete. Nicely done, House of Marley engineers.
Does the world need another celebrity headphone brand? No. It needs several fewer, not more. In this $100 to $150 price range, Exodus has only one serious challenger.  It's my prior favorite: the ultra-comfortable Aviator over-ear headphones from Skullcandy. I am reluctant to do a direct comparison between Exodus and Aviator, because I'm afraid Exodus might win the audio contest, and I would have some musical egg on my face.
When the fit finally is comfy and the speaker drivers finally are ripened, you will enjoy the screaming great price and outstanding sound from House of Marley's Exodus On-Ear Headphones for years. We award them a 9 out of 10 MyMac recommendation.
Note #4: One hundred tracks from an enormous range of artists were evaluated during our listening and testing period for Exodus headphones, including: One Directions, Kesha, Bob Dylan, Christina Aguilera, Kathleen Ferrier, and the entire MOG top 49 singles and top 10 albums from last week, plus Peter, Paul, and Mary, and Marley's Ghost (no relation to Bob or House of Marley.)
Note #5: This one comes from Mrs. Nemo, who mentions that if you have a large head or big hair you will have to be extra-emphatic in your stretching of the metal C-frame.
LINK:Â SoundVisionMag review