Guest review by Howard Nemerovski
CitySlicker iPad and iPad Mini Case
WaterField Designs
Price: $99 and $89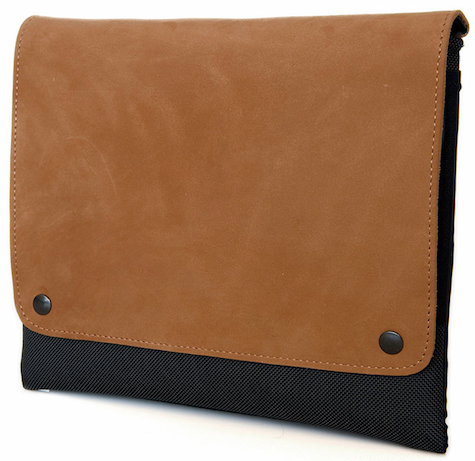 This CitySlicker can be trusted!
WaterField Designs of San Francisco has created a lush, fashionable, and utilitarian carrying case for the iPad that makes its owner feel like a — CitySlicker! That's the appealing name WaterField has given to this upscale mobile home for the iPad.
The plush lined protective sleeve pocket will accept the iPad with the Apple Smart Cover. The pocket is contained in a rich black ballistic nylon case, which is closed by a Peruvian Leather flap secured by two sturdy button snaps. The flap also covers two small nylon slip-in pockets for a charger and an additional accessory. The back of the nylon case adds a long and deep zippered pocket for a thin notebook or paper stash.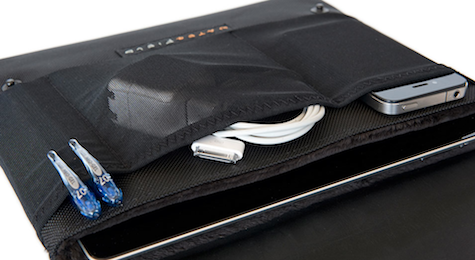 The bag is a "10," and it would be a "15" if the sleeve pocket was a tiny bit bigger so as to accept the iPad while it remains inside one of the hard cover read-through carrying cases with the magnetic covers. On the other hand, it appears that the wise men and women at WaterField Designs are convinced that owners of the CitySlicker will liberate their iPads from those cases, return them to their natural state, and provide them with a safe and luxurious home — while making a tasteful  fashion statement. The beauty and safety of the CitySlicker make it easy for its owners to get back into the habit of hitting the Sleep switch on their iPads; a very acceptable trade off.
The $99.00 price for the CitySlicker is reasonable in light of its top tier design and materials. WaterField Designs isn't shy about the price: the card in the package proudly announces: WaterField bags are designed and made in San Francisco, where rent is high, labor expensive, and competition is intense. We wouldn't go anywhere else.
And you shouldn't go anywhere else if you're looking for a uniquely attractive and useful environment for your iPad. We award the CitySlicker for iPad and iPad mini a strong 9 out of 10 MyMac review rating recommendation.
Five colors of leather are available, as is a carrying handle and three options for shoulder straps.