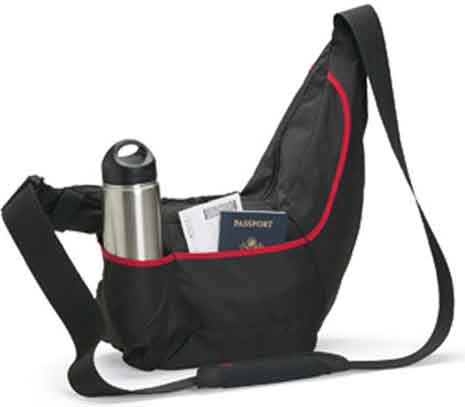 Passport Sling II
Company: Lowepro
Price: $64.95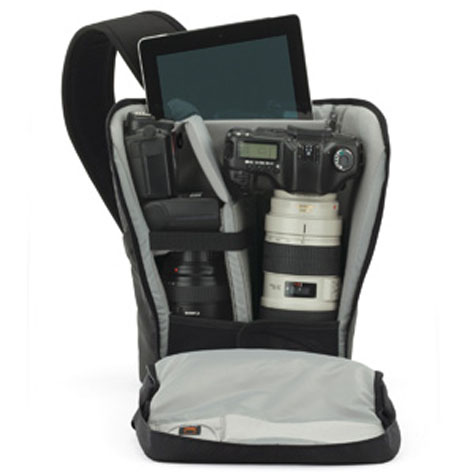 Urban Photo Sling
Company: Lowepro
Price: $76.95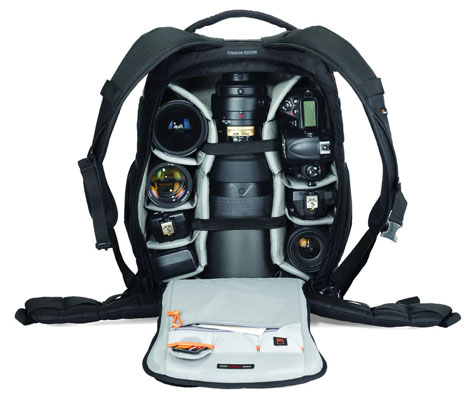 Flipside 500AW
Company: Lowepro
Price: $159.95 (at B&H)
If you still take pictures with something that weighs more than, and is almost as large as, a box of Cheerios, any one of these excellent Lowepro bags will quickly become your best friend. Many consumers are happy taking pictures with an iPhone or iPad — and certainly those devices have convenience on their side. But if you shoot with a DSLR and like to carry a few lenses, a tripod, flash, and a few other accessories, you need something that will accommodate your expensive equipment safely without wrecking your back and shoulders, not to mention your budget. DSLR is a large, heavy, digital camera that can use different lenses.
Lowepro has been making camera packs for over 40 years, frequently modifying its designs based on recommendations from professional and amateur photographers. That experience comes through in the way each of these three packs is tailored to a different type of activity.
Passport Sling II
If you're wandering around town on foot or bicycle, the Passport Sling II is large enough to hold basic gear. Think of it as a large but ergonomically thoughtful purse, one you can fold and stow in your carry-on if you're traveling. When you get to your destination, fill it with a camera and a couple of lenses, your checkbook and glasses, a cellphone and extra memory cards — separate compartments with Velcro tabs are provided. There's still room for some fruit or a sandwich. F
Forget about your iPad. There's no compartment for a tablet. Use the outside compartments for a water bottle or other odds and ends.Then drape the Passport Sling II over your head and let it hang diagonally across your chest. Adjust the strap length to your torso and off you go, in comfort.
Urban Photo Sling
The Urban Photo Sling has roughly the same amount of space as the Passport Sling II, but it adds a padded interior compartment for an iPad, and more padding on the strap than you'll find on the Passport. It also has a thin waist strap that will hold the pack in place and make it feel more like a messenger bag.
Keep in mind that while the Urban Photo Sling has an iPad pocket, your iPad isn't likely to fit in it if the iPad is already in a case. My iPad lives in a hard shell Otter Box case, and there is no possibility of squeezing it into the minimal space allotted.
Camera gear is easily accessible in the Urban Photo Sling. Swing the pack around in front of your body, and unzip the rainfly type cover partially to access your gear from the top of the pack. If you're stopped at your destination, the zippered compartment can be unzipped completely for full access to all the padded compartments. On the lower outside side of the pack, there's a small separate compartment for pens, a phone, SD cards, and the like. Everything is compact, and space is adequate for one DSLR or a smaller digital camera and a couple of smaller lenses.
Flipside 500 AW
Now for the heavy duty pack. If you're leaving the South Rim of Grand Canyon for a 20 mile roundtrip hike to the Colorado River, you don't want to go with just a smart phone or your point and shoot, do you? After all, how many times are you going to make that hike? You'll want a 500mm lens along, if you own one, a good tripod, a couple of smaller lenses, filters, SD cards, and plenty of water and snacks. For that kind of payload you'll want Lowepro's Flipside 500 AW, the Paul Bunyan of this group. If you insist on ignoring our advice about relying on your iPhone or point and shoot, you can shell out a few extra bucks and leave the heavy lifting to a pack mule. Or you can do the superperson thing and just suffer.
You won't suffer too badly because the 500 AW is made to haul plenty of gear while providing lots of padding for both your equipment and you. The camera gear sits in a rectangle that rests against your back, but the rear of the pack is so well padded you'll never feel any of the equipment. You can fit that 500mm lens, a big DSLR, three or four smaller lenses, a flash unit, and extra batteries in that main compartment, or you can carry fewer lenses and add a second body. The double-zippered flap has small Velcro lock compartments for extra SD cards and batteries, and a separate  pocket that can accommodate objects the size of a checkbook. Once the camera compartment is zipped up, you can attach a full-sized tripod to the rear. Pretty soon you'll either feel like Indiana Jones or wish you'd taken that body building class in high school more seriously.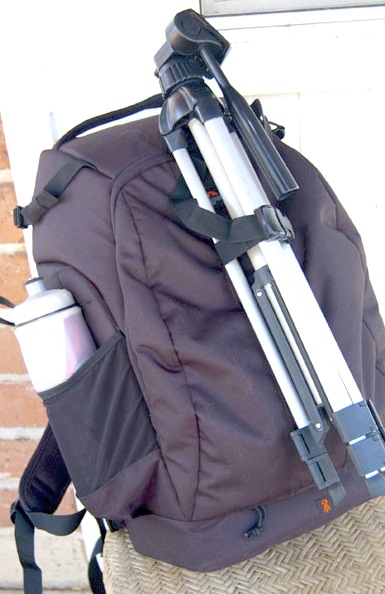 On the opposite side of the camera compartment you'll find a large space for your office stuff, cellphone, notepad, or book. The same space includes a separate padded compartment for your iPad, but unlike the Urban Photo Sling, this one has plenty of room for an iPad and its case. This pack also comes with its own raincoat. Check out the bottom of the bag and you'll find a Velcro tab. Yank it open, remove the gray rain flap, and you can cover your entire 500 AW pack in the event of bad weather. Two webbed pockets on the sides are ideal for water bottles.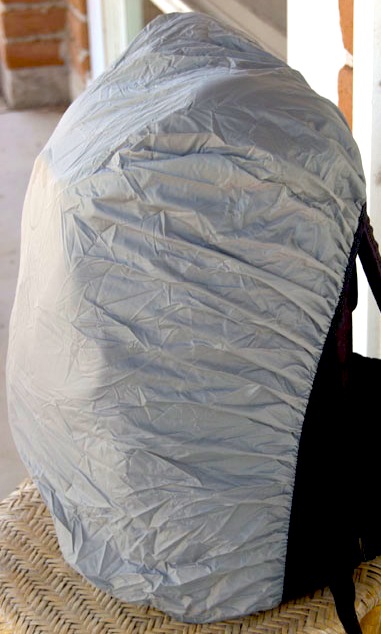 The 500 AW weighs 4.3 pounds with nothing in it. Using it with all the gear it will hold requires a serious commitment. But if you find yourself on a magazine assignment, as I have, in an isolated mountain range and it rains for three days, this is the pack that will not let you down. You may end up soaked and miserable and wondering whether the magazine is paying you enough to endure this kind of punishment, but at least your gear will be safe and dry.
MyMac.com Review Rating for the Passport Sling II and the Urban Photo Sling: 9 out of 10. 
MyMac.com Review Rating for the 500 AW is a solid 10. Well done, Lowepro.