LaCie Slim SSD P'9223 Drive
Capacity: 120GB
Manufacturer: LaCie
MSRP: $149.00
Slim SSD P'9223 Drive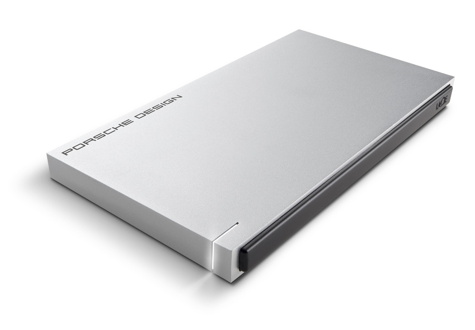 Sleek, speedy and gorgeous. No, not a gazelle—it's the P'9223 Slim SSD external hard drive from LaCie. The Porsche Design enclosure measures a tidy 5″ by 3″ and is only 7/16″ thin; thinner than a MacBook Air. The case is solid aluminum and feels satisfyingly substantial. Apart from a razor thin slit for the indicator light and a USB port, the case is sleekly clean.

The enclosure contains a speedy USB 3 Solid State Drive with a 120GB capacity. This drive is built for speed with transfer rates up to 400MB per second using USB 3 connectivity. Due to its USB Attached SCSI Protocol (UAS), the P'9223 Slim SSD is even speedier on the latest Mac laptops running Lion or Mountain Lion. Initial setup is simplified as LaCie includes built-in software that can format the drive to the platform requirements of the machine to which it is connected.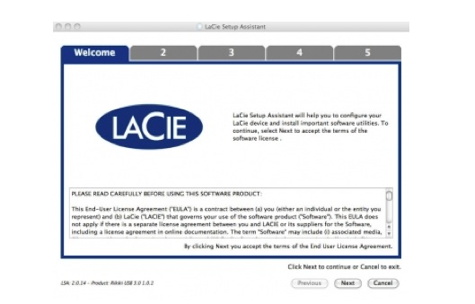 Running on a USB 3 computer, the P'9223 Slim SSD is 10 times faster than USB 2, according to LaCie. It is also compatible with USB 2 machines when necessary. The interface is bus-powered so it is ideal for field work with any MacBook. Since this is a solid state drive, there are no moving parts. It can withstand the bumps and bruises of the mobile road warrior.
This sleek drive is available with a 120GB SSD for $149.99 or a larger, 500GB capacity 2.5″ mechanical hard drive for $99.99. The downside is that the SSD is more expensive with a smaller capacity, but it offers substantially better speed and being solid state, it will withstand mobile use better than a mechanical drive. The purchasing decision depends largely on how it will be used.
LaCie and Porsche Design have worked closely for nearly ten years producing products that combine technical performance with sleekly modern form. The P'9223 Slim is no exception and is a perfect example of what the two firms produce when working in unison.
MyMac Review rating is 9 out of 10.