Joby GripTight Micro Stand
Manufacturer: Joby
MSRP: $29.95 (GripTight Mount is also available separately: $19.95)
GripTight Micro Stand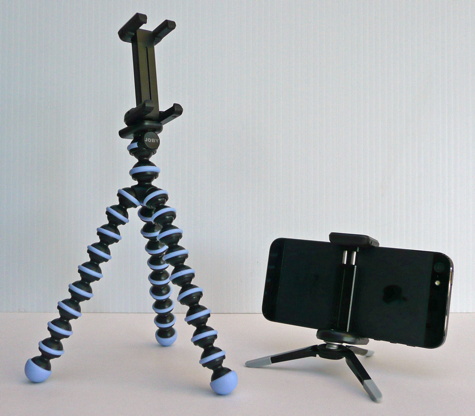 Joby's ingenious GripTight Micro Stand and GripTight Mount serve a long-unfilled need. Joby makes the popular GorillaPod tripods. These have flexible legs that can securely wrap around and hug tree limbs, railings, lampposts, etc.  This permits a camera to be set up out in the wild where a large tripod might be impractical.
However, when an iPhone is used for taking self-portraits or other time delayed shots where stability is important, propping it against a rock is uncomfortably risky and not recommended. There hasn't been a really good way to solve this problem until now. Joby's GripTight Micro Stand provides a ingenious solution and a serves a couple of other useful functions as well.
The stand is in two parts. First, there is an incredibly well-engineered folding tripod. The rubber-tipped, cast metal legs pivot open to a diameter of about four inches. On top there is a standard 1/4″ camera mount that can be tilted up to 36 degrees in any direction. The second part is the GripTight Mount, a spring-loaded, folding clamp for an iPhone, in or out of its case. It will also accept any other mobile phone with a maximum width of 2-3/4″. Its double jaws are rubber coated for security and scratch protection.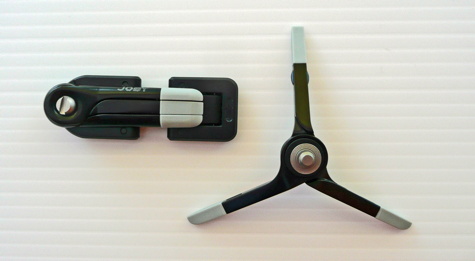 When the two parts are assembled together and folded, the GripTight Micro Stand is only about an inch wide and three inches long. It's so small, that Joby included a small hole so it could actually hang on a keychain. Easily pocketable.
Because the GripTight Mount has a standard camera socket, it will fit on any tripod or any of the Joby GorillaPods. In addition, Joby has a free GorillaCam app that permits taking time-delay photos, three-shot bursts, time-lapse sequences, and other functions.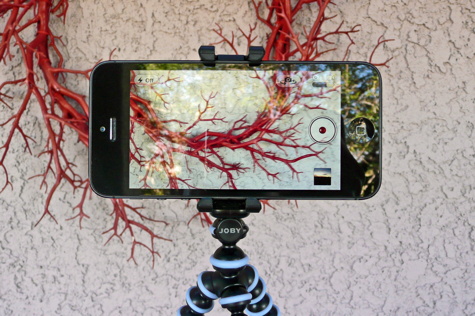 With the increasingly powerful cameras being incorporated into iPhones, this ingenious piece of precision engineering belongs in your camera bag and is very highly recommended for iPhonographers. A rare maximum MyMac rating is well-earned here.
MyMac review rating is 10 out of 10