Genius PenSketch 12″ x 9″ Pen Tablet
Model: M912A
Manufacturer: Genius
MSRP: $279.00 (Street: $210)
PenSketch M912A Pen Tablet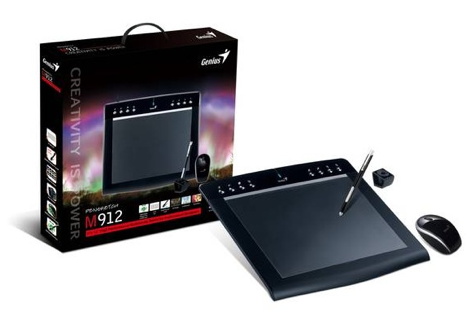 Put a pressure-sensitive stylus in your hand, apply it to a graphics tablet for the first time, and magic happens. It's a revelation that makes you wonder about all that mousing you've done in the past to retouch a photo. You can read all you want about what it's like to use a tablet, but you need to actually use one to understand how amazingly precise it feels.
The PenSketch M914A tablet by Genius has a generously sized 12″ x 9″ drawing surface. You'll need to clear some desk space because it measures 15″ x 13″ overall. Keeping your keyboard within reach while using a tablet is always challenging.
Trying to draw with a mouse is like drawing with a bar of soap; clumsy, awkward, and not at all precise. If you are a graphic designer, illustrator, or photographer, you really have to use a tablet as your input device. For years, Wacom has dominated the graphics tablet market. Their products are well made, fairly expensive and mature based on years of refinement. Now that there is some competition, it's hard not to draw comparisons.
The Genius Pensketch tablet works well for photo manipulation. It comes bundled with Adobe Photoshop Elements 9 that permits nearly endless photo retouching possibilities and other manipulation techniques. Elements is a leader-of-the-pack application and the PenSketch tablet pairs with it affording accurate precision with 2048 levels of pressure sensitivity. Zooming in and out as you work is accomplished by pressing Express keys on the upper edge of the tablet.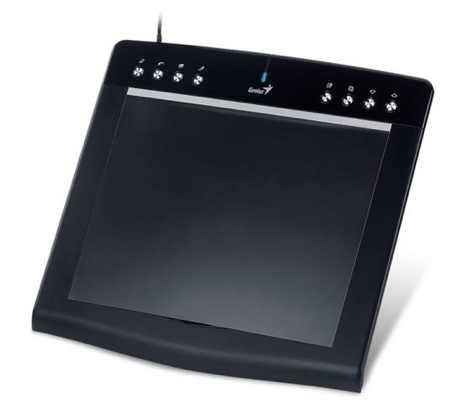 Also bundled with the tablet is Corel's Painter Essentials 4, a drawing and painting application that offers two ways of working. You can draw or paint based on one of your own photos or you can start with a blank canvas and let your creative side run wild. Either way, you can spend hours having creative fun. However, Painter Essentials tends to be buggy in some installations. It is difficult to access the brushes drawer for some users. In my case the drawer was empty and after downloading patches from Corel's site I was able to get it working, but only sporadically.
Ergonomics is the area where this tablet disappoints. There are eight Express keys along the top edge of the tablet. The four buttons in the upper right corner perform my most important functions—Increase/Decrease Brush Size and Zoom in/Zoom out. I'm right-handed as is 90% of the population. Using these four buttons while I'm working means that I have to reach across or around the large tablet with my left hand while I'm drawing with my right. It seems awkward to me but other users may be more patient and press the Express keys with their pen hand.

There are four express keys on the top left of the tablet: Erase, Undo, New Layer, and Hide. They are easier to access with my left hand but are never used as much as the other four keys. Using System Preferences, you can assign many functions to the buttons on the mouse and pen but not to the Express keys.
In addition, I prefer to work with my tablet propped up at a slight angle. The PenSketch tablet's curved front makes the working surface a little unstable when propped as it then rests on one point of the rounded front edge. At the top of the tablet there is a very intense blue LED that blinks on whenever the pen is near the surface. There is no setting to turn it off. The blinking can become distracting but putting a piece of tape over it stops the glare.
Attached to the tablet's surface is a sheet of frosted plastic that is adhered only at the top edge. This allows the user to slide a photo underneath for tracing purposes. Genius will be offering replacement sheets so that when the original wears or gets gouged, it will be easy to replace. Genius had a good idea here. It is possible to replace the surface on some Wacom tablets but I understand it's expensive and complex.
The pen nibs need replacement fairly regularly. This tablet only includes three with tweezers to perform the exchange. Again, Genius says they will have replacement nib kits available.  I've found that when the drawing surface of a tablet is new, the nibs grind down quickly. Later, when the surface wears and becomes smoother, the nibs last much longer.
To an artist, a graphics tablet is a very personal thing, similar to his or her paper choice, tools, or the paints used. Even with a large monitor, some people prefer a small tablet surface while others want a a ratio that is nearly one to one with their screen. Preferences like these certainly apply here. This is a good tablet with some quirks that will not affect some users in the least while they may vex others.
MyMac rating is 8 out of 10