Adobe Photoshop Elements 11
Company: Adobe
Requires: multicore Intel processor, Mac OSX v10.6-10.8, QuickTime 7, Windows XP with Service Pack 3, Windows Vista, Windows 7, or Windows 8, 4GB hard drive space for both Mac and Windows
Price: $99.99, upgrade $79.99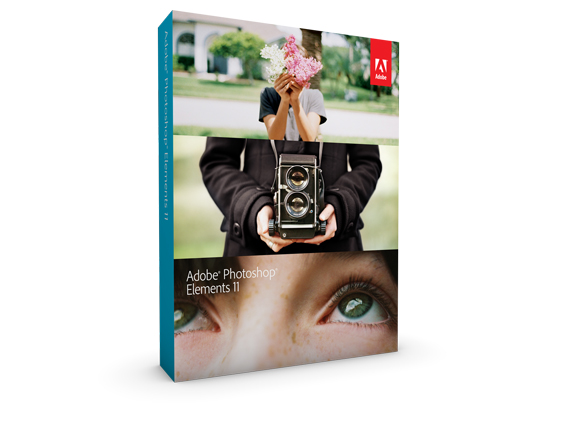 Last year about this time, Adobe released Photoshop Elements 10. I wrote a two-part review, first on the Organizer, then on the Photoshop Editor. Not a company to rest on their laurels, Adobe has updated both the Editor and Organizer, giving us—you guessed it—Adobe Photoshop Elements 11.
The first thing you'll notice when you open Adobe Photoshop Elements 11 (PSE11) is a new welcome screen, where you'll choose between opening the Organizer or Editor. This setting can be changed to go straight to one or the other, if you prefer, when opening the application.
Organizer
The PSE11 Organizer boasts a cleaner, simpler interface with larger icons. Across the top are four buttons: Media, People, Places, and Events. Media shows all the Albums and Folders, with the actual photos in the center pane. To the right of the photos is where you'll tag and add other pertinent information to each photo.
If you've used iPhoto, then People and Places will feel very familiar. Tag a few photos of one person, click the Find More button at the bottom of the screen, and PSE11's People Recognition technology will scan your library and add photos of that person to their stack. If you like, photos can be organized into groups—family, friends, associates—whatever fits your needs.
Places is a new feature to PSE11 that lets you add photos to a map and is so simple to use. Select one or more photos then click the Add Places button at the bottom of the screen. A map opens with the photos at the top. Type in the location of the photos, and a box appears asking if you'd like to place the media at that location. Click on the green checkmark, and PSE11 will place a pin in that spot with a number representing the number of photos at that location. Very cool.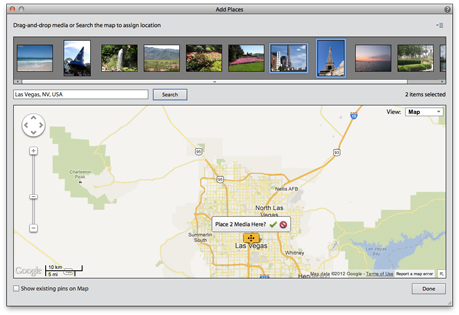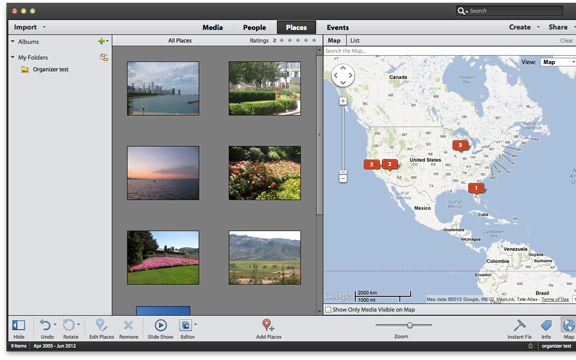 When photos are imported into PSE11, they're automatically placed into Smart Events based on time or date. Users must create their own Events, unlike iPhoto, which does it automatically. Creating an Event is another simple process. At the bottom of the Event screen, click Add Event. Name the Event, then add a description and calendar details, if desired. Finally, drag and drop the chosen photos into the media bin, then click Done. A little more work than iPhoto, but with PSE11, the user has more control creating Events.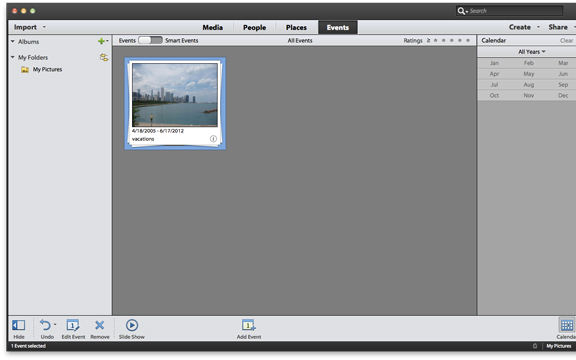 At the bottom of the PSE11 Organizer screen sits the Action Bar. Here you'll find buttons to common functions, plus a link to open a photo in the PSE11 Editor. Minor photo editing can be done within the Organizer by choosing the Instant Fix button.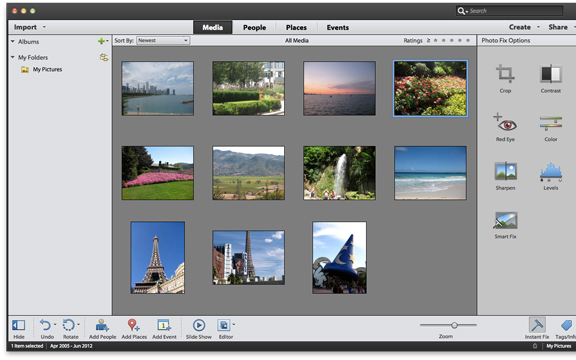 As with Adobe Photoshop Elements 10, PSE11 has options to Create and Share your photos. Choosing any option in Create, such as Greeting Card or Photo Calendar, opens the Elements Editor for further processing. Sending video clips to Vimeo and sharing photos with Adobe Revel are new to the Share options. Photos can also be uploaded to Flickr or Facebook, or attached to an email.
You may be wondering what will happen to your PSE10 catalog. PSE11 will import it quickly and easily. My PSE10 catalog has over 7400 photos, and took less than two minutes to import. Importing from an iPhoto library takes significantly longer. This is because when importing from an existing catalog the new catalog uses pointers to the photos, whereas creating a new catalog from iPhoto duplicates the photos. So if your iPhoto library is 6GB, for example, your Organizer library will also be 6GB.
Sadly, I ran across the same iPhoto import problem with PSE11 I had with PSE10. At the very end of the import process, PSE11 popped up a screen telling me I had two corrupted photos in iPhoto and the import failed. I don't know why the rest of the photos aren't imported into PSE11. The offending photo(s) has to be removed from the Masters folder, hidden in /users/your home folder/pictures/iPhoto library (control click or right click on iPhoto library icon and choose Show Package Contents to get to Masters folder), then repeat the import process.
Elements Editor
Just like the Organizer, the Editor has the same grey interface. It's a cleaner look and easier to navigate. Newly designed icons are now labeled and grouped together by function. New to both the Organizer and Editor, the Action Bar at the bottom of the screen holds regularly used commands, like Rotate and Undo. I found using the Action Bar intuitive and much easier than searching through drop-down menu items.

PSE11 still offers three editing modes: Quick, Guided, and Expert. Quick mode offers fewer editing choices, but still gives users total control over the final photo look. Mousing over each option shows what the photo will look like if that option is applied.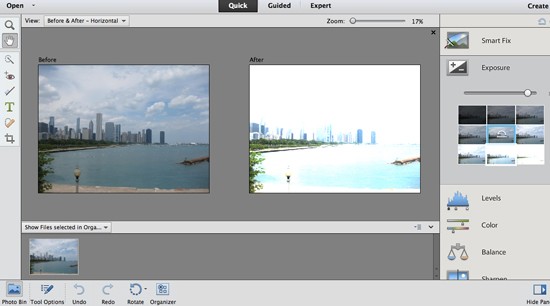 Guided mode introduces four new edits and three new filters. Tilt-Shift Effects make photos look like miniature scenes. Photos are blurred at the top and bottom so the subject looks smaller than it really is, an effect similar to using a tilt-shift lens. The Vignette Effect adds a black or white "cloudy" look around the edges to emphasize the center of the photo, while the High and Low Key Effects add high levels of black or white for a dramatic appearance. It's easy to adjust and tweak settings while following step-by-step instructions. Some of the guided edits have a link to an online tutorial for a more in-depth description of the edit.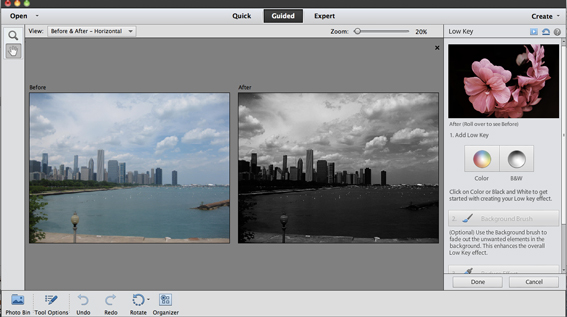 The new filters are a lot of fun. If you're a fan of comic books or graphic novels like "The Walking Dead" then you'll enjoy using the Comic, Graphic Novel, and Pen & Ink filters. Each has four presets plus adjustment sliders.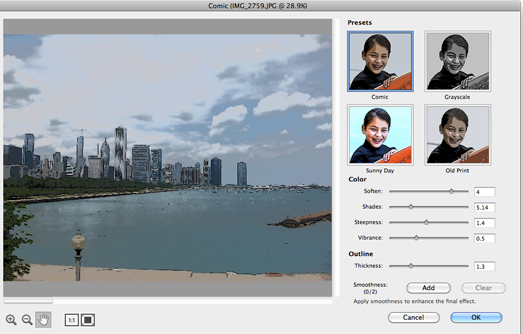 The Expert mode still hosts the advanced options experienced PSE users have come to expect. The Refine Edge Radius tool, used with the Quick Selection tool, has been enhanced to make it easier to outline objects completely, then copy and paste onto another photo. It does take a little practice but won't it be worth the smile on your young daughter's face when she sees herself standing next to Justin Bieber in an 8×10 glossy?
Once your photos are edited it's time to share. PSE11 has new templates and flexible layouts to create calendars, photo collages, scrapbook pages and more, again, customizable to your needs. Prints, photo books, and greeting cards can be printed locally or sent to Shutterfly for professional printing.
Bottom line: If you're using Adobe Photoshop Elements 10, there may not be enough new features to make an upgrade worthwhile. However, if your version of Adobe Photoshop Elements is 9 or earlier, or you've always wanted to try an alternative to iPhoto, now's the time to move to Adobe Photoshop Elements 11. While PSE11 isn't as powerful as Adobe Photoshop CS6, it's a great choice for casual users who want to add a little more oomph to their photos. Click here for a library of very helpful PSE11 how-to videos.
Note: Look for MyMac.com writer Donny Yankellow's review of Adobe Photoshop Elements 11 for advanced users coming soon.
MyMac.com Review Rating: 8 out of 10