iLuv Fit Active Earphones
Company: iLuv
Price: $49.99
Model: iEP415
Works with: iPod, iPhone, iPad, plus most other smartphones and MP3 players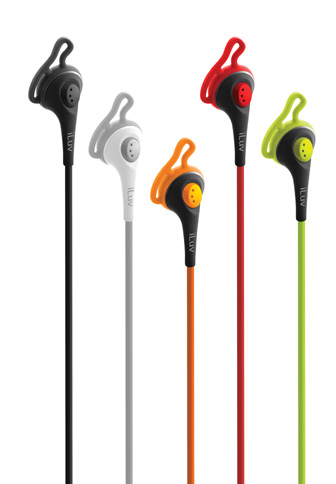 Earphones are a very personal choice. What works for one person may not work for another. That said, if you're in the earphones market, especially if you wear them during exercise or other activities, take a look at iLuv Fit Active Earphones.
iLuv Fit Active Earphones are targeted to people with an active lifestyle, but really anyone can use these headphones. They're comfortable and secure in the ear canal, which for me is the number one requirement of earphones. If they hurt when using, what difference does it make how good the sound quality is?
Speaking of sound quality, it's great. I listened to an audiobook, podcasts, and all types of music, from loud Twisted Sister to the more mellow Simon and Garfunkel to classical. The sound was crisp and clear, no distortion whatsoever.
I then tried the iLuv Fit Active Earphones with my MacBook. The sound was so clear that I had to reduce the computer volume to just one bar while listening to music on iTunes! They also worked perfectly with iChat and Skype.
The remote control, located just below chin level on the earphones, adjusts volume, play/pause, next track, and previous track, plus is used to answer calls. When using with a computer, however, the iLuv Fit Active Earphones are strictly earphones. Volume control and song switching are done on the computer.
The big test for the iLuv Fit Active Earphones was the gym. Would they stay in my ears while I walked the treadmill, ran a little bit, then worked out with weights? Happily, the answer is a resounding yes. With most other earphones I was constantly putting them back in my ear or readjusting. I didn't touch the iLuv Fit Active Earphones until it was time to take them out. Three different sized ear-tips are included for a perfect fit.
There are two changes I would like to see with these earphones, though I admit they're both minor. First, I wish the remote was a little lower on the wire. It feels too close to my chin and it's a bit awkward to use the remote. Second, there's no carrying case. Yes, I could use a plastic bag, but that may not protect the earphones as well as a dedicated earphone pouch. As I said, minor issues.
I'll be honest: I don't care much about bass and high tones in a pair of earphones. Save that for the $200 fancy schmancy headphones. My criteria for earphones are as follows: are they comfortable in or around my ear? Are the controls easily accessible? Can I understand what is being said or sung without distortion? If I can answer "yes" to all those questions I have a pair of earphones worth keeping and using.
These are earphones worth keeping and using.
MyMac.com Review rating: 9 out of 10