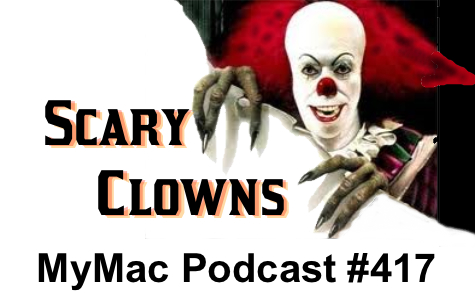 Download the show here
Subscribe in iTunes
Why do people find clowns so scary? Probably because they just seem creepy in general. Hands up, how many of you find the killer is a clown movies totally plausible? Yep, thought so. The GMen aren't afraid of clowns…mostly, but tech behaving badly gives them the frights. Guy replaces an iPhone with poor Bluetooth and finds that iCloud was a bit of a fail and Gaz has yet to install Mountain Lion. A clown was the lead that broke the "Who broke into Steve Jobs house?" case and Gaz finds out that some people have a natural fear of our face-painted friends. The way back machine comes into play with a DashBoard Minute from 2005 and wonder of wonders! We now have a closing theme song for Gaz's tips!
Some Links:
For those times when you need to map your mind
Guy's App Pick: Robot Riot from Cebturian games $1.99
Gaz's Mind Node Free
Mind Node Pro $9.99
and Mind Node iOS $9.99
all from Ideasoncanvas
People's Pick: From Peter on Twitter. Now two IOS app picks I would like to share. Nothing very special, but actually some apps I use regularly, the first one even multiple times a day:
– FLIPBOARD: possibility to collect news from your favorite web sites, rss feeds or twitter and Facebook sites. Nice layout and easy to flip through the pages
– DILBERT: your daily dose of famous Dilbert comic strip. Always a good laugh.