Macally Suction Cup Mount
Company: Macally
Price: $24.99 MSRP
Works with: iPhone, iPod, most cell phones, and GPS units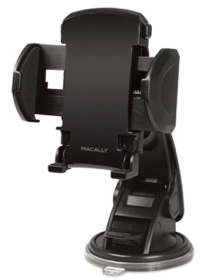 Many people use their smart phones for turn-by-turn directions while driving. Others like to listen to music or podcasts. The biggest problem is where to place the phone so it's easily accessible. The Macally Suction Cup Mount solves the problem very nicely.
The Macally Suction Cup Mount (MSCM) securely attaches to the windshield and is amazingly strong. There are some pretty lousy drivers in my neck of the woods, so I often come to a quick stop. The MSCM didn't budge or shake, nor did my iPhone. Driving at different speeds, making a sharp turn—my iPhone stayed in place, and the MSCM was just as secure on the windshield as it was when it was first placed.
One of the things I love about the MSCM is its flexibility. The main arm bends up to 90 degrees, then locks into place, while the cradle holder rotates 360 degrees, and can be used in either portrait or landscape mode. I recommend adjusting the MSCM to your exact needs before placing it on the windshield. It's easier that way.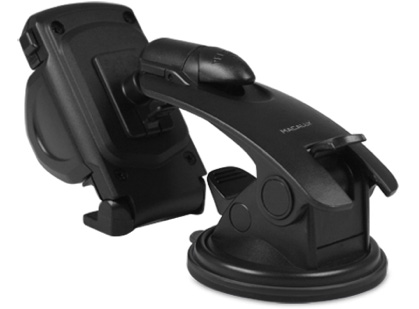 If you use the MSCM in portrait mode there's a padded bottom support for additional security. It's open at the bottom, so I was able to use my iPhone car charger at the same time.
An adjustable grip at the top makes it easy to be sure your device is securely held. My iPhone case didn't get in the way. Just open the grip wide, place your device, then close the grip until it's snug.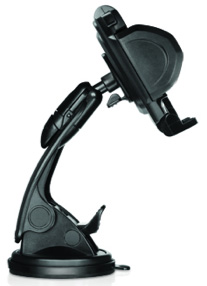 One caveat when using the MSCM: be careful where you place it on your windshield. Each state may have laws as per visibility. The best place for my MSCM did get in the way of my visibility. A lot has to do with the angle of your windshield. The ideal place for me was the upper left corner, but I was too paranoid that one day my iPhone would go flying out the window! (Doubtful it would, of course!)
Overall, the Macally Suction Cup Mount is a great way to have access to your device while driving. The suction release tab makes it easy to remove when necessary, and the suction lock enables secure windshield adhesion. If it attached to the dashboard it would be perfect!
MyMac.com Review rating: 8 out of 10