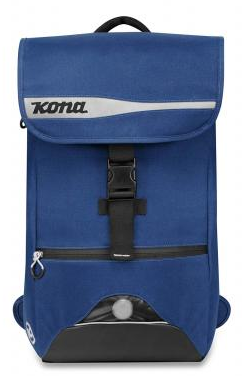 Kona Project 2 Backpack
Company: Brenthaven
Price: $149.95 MSRP
What do you get when you combine a bicycle company and a company that manufactures laptop bags and backpacks for computer users? What you get is a product that combines the knowledge of both companies designed to provide a great backpack that can carry up to a 16 inch laptop and your other necessary items in a unit that features an external water resistant Cordura fabric with a 100% waterproof internal dry bag.
Designated as the Kona Project 2 Backpack, this backpack provides the user with a versatile backpack designed for comfort while riding, protection for your laptop and/or iPad, plus those other essential items that you may need to bring along, be it to work or to play. The 1000D Cordura ballistic fabric sheds water and the internal polyurethane coated bag keeps your items, especially your electronics, safe and dry.
Empty the backpack weighs only 3.8 pounds, with external dimensions of 13 1/2" width by 20" height by 5" depth that expands to 8" when you need the additional space. Now if  you bike to and from work, this backpack may be exactly what you need. Wear sneakers while riding? Place your work shoes inside the backpack and you're good to go when you get to work. Place your bike helmet inside the backpack too once you're at work. Slip your laptop in the rear section and you can still place your iPad in the next section, with plenty of room if you need to bring along your AC cords.The bottom outside section is large enough for the additional items; house keys, wallet, pens, etc. To top it all off, the rear facing side of the backpack also includes a built-in safety light that is either constant or blinking. Plus there is a case on the shoulder strap (switchable) that your iPhone or other phone will fit snugly into, readily available when you need it.
The backpack is designed with the comfort of the user in mind. The bottom of the backpack fits comfortably in the small of the back. The shoulder straps and chest strap are readily adjustable, making the unit fit snugly where you want it to.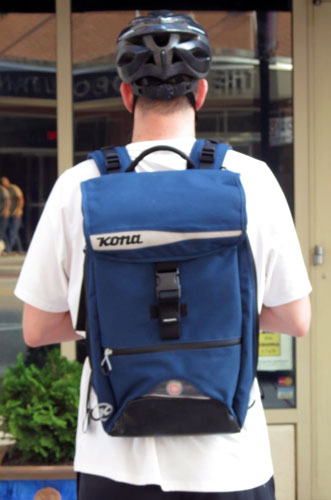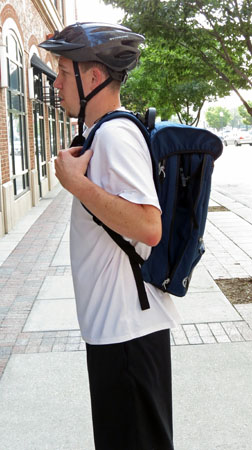 One of the things that immediately appealed to me was the fact that the case is designed to be water resistant and the interior basically a water proof bag to keep things dry. Of course, my area has been in the midst of one of the worst droughts in quite a while. When it did rain, it wasn't when I had the backpack with me. The only way for me to check it out was to use the old garden hose method. So I dutifully propped the backpack up in the back yard, turned on the garden hose and wet down the backpack. It worked! Everything inside stayed nice and dry, just as claimed. And yes, I was trusting enough to have my MacBook and iPad inside the backpack. I did place paper towels inside too just to see if any moisture did work its way in, they remained dry. Took all of my stuff out, wiped up whatever moisture remained on the bag, let the bag sit in the sun for a while; no problem drying out completely.
Both my son and I have given the backpack a workout. Riding with the backpack is not a problem at all, neither is using it when you're not on a bicycle. I've used the backpack to move my laptop or just my iPad or both, plus I've also used it with my size 12 running shoes inside, plus a book or two, what ever I figured would be something that someone else may have a need to move around. How does it sit when you're riding? Here are a couple of pics to show how it rests on you.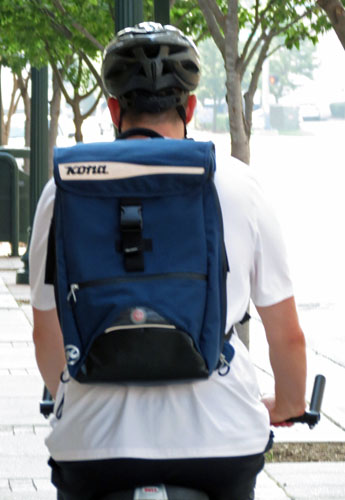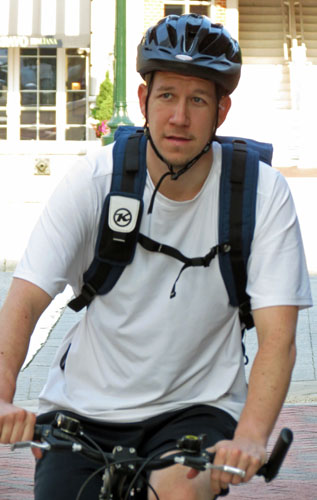 All in all, the Kona Project 2 Backpack has taken whatever I've thrown at it, and handled it quite well. Being able to adjust the storage capability by just lowering or raising the left and right side external zippers provides you with a backpack that isn't too big when you don't need it to be, yet flexible enough to adjust to your needs. Comfort is always a big issue, be it riding or just using the backpack in everyday situations not involving a bicycle. Brenthaven and Kona have produced a really great product that is really worth the price.
The Kona Project 2 also comes in a Messenger Bag configuration; both bag and backpack come in either Black or Blue. Brenthaven also provides a 100% lifetime guarantee on the product.
PROS: Fits laptops up to 16 inches, water resistant Cordura exterior, internal polyurethane coated bag keeps your items dry, well designed, comfortable and durable, built-in safety light.
CONS: The price may cause some pause but when you consider what you are getting, the product is well worth the cost.
All in all, I give the Kona Project 2 Backpack a My Mac rating of 8 out of a possible 10.