WorldCard Mobile – Business Card Reader & Scanner
App Developer: Penpower Inc.
Version Reviewed: 4.0.0
License: US$6.99
In today's high tech world, it is surprising to see just how many businesses still use the humble business card to exchange contact information.
During and prior to the 1980s, business cards were added to Rolodex systems, and by the 1990s personal assistants were frantically entering relevant information into database applications, such as FileMaker Pro. The millennium brought about the business card scanner, and until recently, not much has changed.
With the coming of smart phone and tablet devices, the traditional style business cards can now be easily entered in seconds into apps such as WorldCard Mobile.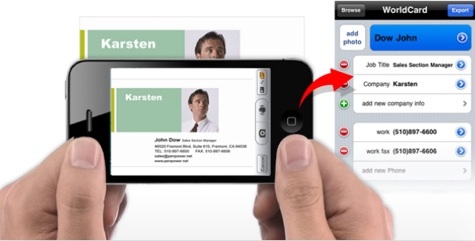 WorldCard Mobile exceeds the usability of the traditional business card by the way it allows users to import and modify information. 
With a business card at the ready, let's take a look at what this app can do for the end user.
The home screen is beautifully laid out and this structure continues throughout the entire app. From this screen you will be able to access every feature and function the app has to offer.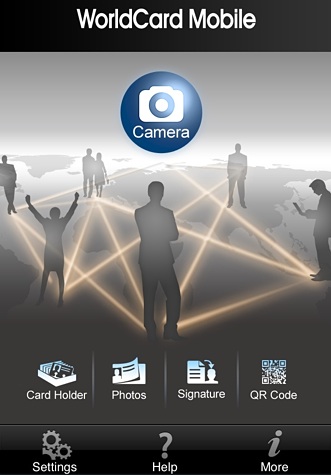 Tapping on the Camera icon is the first step to importing your recently acquired business cards. You will be given concise, on-screen instructions on how use the camera's functionality. This information ensures a user friendly experience.
If you have used the iPhone's camera app before, you will be accustomed to some of the controls such as turning the flash on or off and tap to focus. Whilst there is no zoom functionality, all users need to do is place the business card within the blue border to capture the information. Selecting image stabilization will change the border to green, thereby reducing blurry images and making character recognition significantly more reliable.
If you need to capture multiple business cards, the developer has you covered with this functionality. The key advantage here is productivity. Whilst the single capture option is no slouch, you will be slowed by confirming the information has been recognized into the correct fields. Whereas, in multiple captures, you can edit that information after the captures have taken place.
By this stage you may be wondering how accurate the OCR (Optical Character Recognition) is. Surprisingly, it identifies the information in incredible detail, with very little intervention needed by the user.
It should also be noted that every business card is different and whilst the app performs admirably on many different styles, you may experience varied results due to certain business card designs and fonts.
If you notice that a specific business card has not been recognized correctly, you can always go back to the original photograph and reselect a new area to be recognized. When undertaking this process, you are given options to instruct the app as to the type of content it will be recognizing such as a name, company, department, or job title.
Another useful option is the ability to crop the area that is being recognized. You may have taken a photograph containing excessive information that is unimportant. This additional information can cause problems with the recognition process. Hence, eliminating this excess will generally yield better results.
Users will inevitably spend a large portion of their time in the Card Holder area of the app. Within this area you can view all current virtual business cards, along with creating associated groups. In the same area you can also delete, email, or export any of your contacts. In essence, this is your management area.
Viewing your contacts can be done in either a traditional style alphabetical order or landscape mode, with a Cover Flow style view. Viewing in Cover Flow will present you with the original photograph of the business card you have captured.

When you want to add information to a specific contact, you have the option to include an image that represents the person or associated company. You can also capture and add the information that is on the rear of a business card if this is available.
Moving beyond editing, the developer has given users the ability to communicate directly from within the app.
If you want to call one of your contacts, all you need to do is tap on the associated phone number and you will be immediately connected via the iPhone's Phone app. It is small features like this that just work, making this an app that can be easily adapted into everyday usage and a replacement for Apple's own Contacts app.
Should you wish to send an associate a text message, or view their social networking status on sites such as Facebook, LinkedIn, or Twitter, then these features can also be commenced from within the app.
A more useful feature is the ability for users to tap on the available address to bring up the Maps app. It is now easier than ever to find your client's office without getting lost or needing to ask for directions.
Heading back to the Home Screen, users will find other capture options such as Signature and QR Code.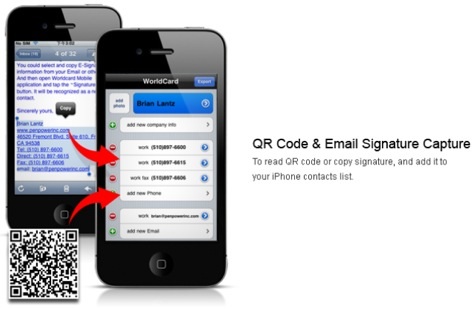 Signatures are a common feature amongst those who use email for professional communications. As a result you may require the signature from an email to be added into your contacts list. The process is as elegant as you would hope.
Simply select and copy the signature from the email, then launch the WorldCard Mobile app. Select Signature and you will note that the copied details have already been entered into the app. When ready, tap Recognize so the fields can be assigned. The final stage then allows you to export the captured information.
QR codes are coming of age and we are seeing more apps with support for this functionality. The built-in QR code scanning, as you would want, works seamlessly.
During testing I sampled a number of QR codes directly from the Internet, and the app had no difficulty grabbing the information directly from the display. Even when the iPhone was at a difficult angle, or reflection was visible on the screen, it still interpreted the information correctly whilst managing to place all relevant information into their correct fields.
You can edit or simply save the QR code information. Interestingly, you can also merge this information with an existing contact. This is a useful feature should you wish to have more details pertaining to a specific business or contact.
WorldCard Mobile is not limited to the default settings. Users have significant control over how information is displayed and sorted, along with a lineup of 16 supported languages to choose from.
iTunes file sharing is built-in, allowing easy access between your iPhone and Mac or PC. The developer, Penpower Inc, has a companion Mac and Windows application that allows importing of the exported data. Also included are backup and sharing support for iCloud and Dropbox.
Gmail and Microsoft Excel 2003 users are both supported with the ability to export and therefore import via the universally acceptable CSV (Comma-Separated Values) format.
Sharing contacts with others is as easy as emailing or text messaging the details of a particular contact, right from within the app.
Overall, WorldCard Mobile is an exceptional app that performs admirably well and as advertised. It is a powerful solution for anyone who has outgrown the Contacts app, or simply has an overabundance of business cards in their Rolodex.
The only limitation is the inability to have multiple users connected to a single collection of contacts. At the moment the app is aimed solely at the individual, rather than a SoHo situation.
Therefore, I am awarding this iPhone app a MyMac.com rating of 9 out of a possible 10.