Bamboo Stylus Duo
Company:Â Wacom
Price: $39.95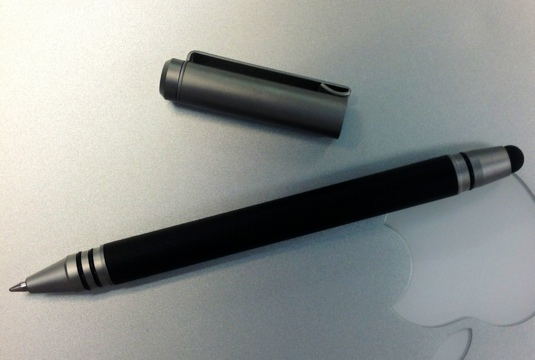 The Wacom Bamboo Stylus Duo combines two products in one and is such a simple concept that you wonder why more companies aren't doing it. It is just as the name implies. One side is a rubber stylus for the iPad and the other side is a ball point pen. Why carry a stylus and a pen when you can just carry both in one tool?
The stylus itself is a metal tube and has a nice weight so it feels like you are holding something in your hand. It is much nice than the plastic styluses that feel like you a holding a feather. For drawing purpose, I feel the heavier stylus is better.
The tip itself is made of rubber and is fairly soft and squishy. At first, I thought this would be a problem and hard to draw with. However, the thinner nature of the tip combined with the soft form factor makes it a great drawing tool. I am illustrating a children's book right now and my goal is to do all the illustrations on my iPad. Using Sketchbook Pro on my iPad this stylus has allowed me to be more accurate than any other stylus I have tried, and much more accurate than my finger. I love it. I have another similar type of stylus by another company and it is no where near as accurate at drawing as this pen allows me to be. It is much easier to connect lines and know where I am drawing.
As I said earlier, the stylus is only part of the product. The second part is the pen on the other end. The pen works as you would expect. It isn't the greatest ballpoint pen in the world, but it does the job when you are working on your iPad with the stylus and need to write something down on "real" paper. The pen end is capped and fillable with standard refills.
I really like this stylus and the only way I can think of to make it better is to figure out a way to get a pencil in there with the pen.
At $40 it is a bit pricey, especially when you can get the stylus minus the pen for $10 less and carry around a cheap $1 ballpoint pen. You have to decide if price or convenience is more important to you.
The pen is available in black with silver trim and you can buy spare nibs at $4.95 for three from Wacom.
MyMac. com rating 9 out of 10