Seagate GoFlex Thunderbolt Adapters – First Look – Nemo Memo
Internet prices: $100 and $190 (approximately)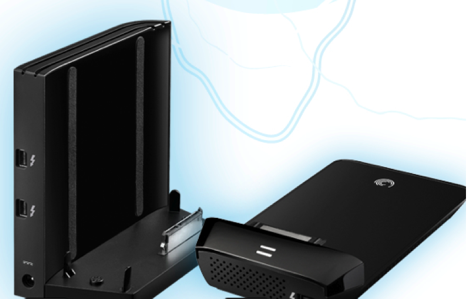 It's not easy to test these innovative new Thunderbolt adapters from Seagate. I needed a compatible GoFlex portable hard drive with its removable USM cable module, and a GoFlex Desk hard drive with removable base, both of  which I have. I needed an Apple Thunderbolt cable, which I didn't have. I needed a Thunderbolt-equipped Macintosh, which I also don't have.
Seagate provided our evaluation GoFlex Thunderbolt adapters. Then they sent a $50 Apple Thunderbolt cable. So far so good. A local retail establishment generously provided the latest 15 inch MacBook Pro with Thunderbolt port. One of my Mac tutorial clients agreed to let me use his new 13 inch MacBook Air. I was ready to proceed.
I set up shop at the retail store in a quiet corner. My first test was using Seagate's 7200 RPM GoFlex Pro for Mac ultra-portable drive, and a 15 inch MacBook Pro 2.2 GHz Intel Core i7 with 4GB of 1333 MHz DDR3 RAM.
I transferred 9.99 GB containing 1,035 items of an entire Music folder back and forth several times between the Mac and the GoFlex portable drive, comparing FireWire 800 speeds to Thunderbolt speeds. Then I transferred 7.85 GB containing an iPhoto Library back and forth, also comparing FireWire 800 to Thunderbolt speeds.
In the first test, with the Music folder, FireWire 800 transfer took 4:10 minutes, and Thunderbolt took 3:15 minutes. Let's call that roughly a 25 percent time saving. With the iPhoto Library, FireWire 800 transfer took 4:15, and Thunderbolt took 3:45. This difference is not substantial. Transferring zillions of small files will yield greater speed savings using Thunderbolt than transferring one huge file.
My second test was using Seagate's GoFlex for Mac Desktop drive, with a 1.8 GHz Core i7 MacBook Air having 4 GB of memory. Transferring 10.28 GB of loose photos took only 1:25 minutes! The SSD in the Air facilitates speedier movement of data, as does the larger 3.5 inch drive in the desktop unit.
The above results are consistent with other posted reviews of Thunderbolt performance.
Other companies are beginning to release Thunderbolt drives and cables. It's about time. They will be expensive at first. Is Seagate poised to become a market and innovation leader, with their  multipurpose drives and removable modules?
When I'm wrong I admit it. I criticized Seagate in our earlier MyMac article for the way the company gave us Mac-compatible FireWire 800 + USB 2 portable hard drives with non-standard interfaces for connecting to computers. A company rep told me that "We're looking ahead, Nemo, to future technology from Apple that will extend the functionality of these new products and keep them useful and versatile." I was not convinced.
Thunderbolt was the new technology that Seagate was referencing. Now it is here. Their drives that I have efficiently use the new adapters. There is no need to purchase a new drive or migrate data to a new location. Well done, Seagate.
There are days I wish USB 3 was the new universal standard for high speed external drives for both Macintosh and Windows platforms. I know why Apple is again breaking from the pack with the Thunderbolt standard. Over time, as with FireWire before it, Thunderbolt products will become commonplace, and affordable. For now they are rare and mostly out of reach.
I use Seagate portable and desktop GoFlex for Mac drives on a daily basis. I can recommend them without hesitation. It is a real gift to us Macintoshers that Seagate's Thunderbolt adapters extend all their GoFlex for Mac drives to be usable with FireWire 800, USB 2, and Thunderbolt.
When I can borrow Thunderbolt-equipped Macs for longer periods of time, I plan to do full backup speed comparisons between FireWire 800 and Thunderbolt.
Previous article link:
MyMac review of portable GoFlex for Mac drives.