Plug Hub
Company: Quirky
Price: $29.99
Quirky Plug Hub is designed to exterminate the rat's nest of cables from multiple electronic products. The Plug Hub can be hidden underneath a desk or mounted on the desk or wall to keep your cables organized.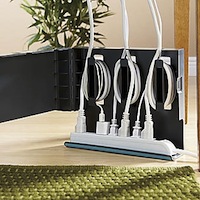 Features:
Three openings on the top of the unit direct your cords neatly to your power strip.
Three integrated cord anchors let you wrap up and hide longer cords.
Sit Plug Hub on its rubber bottom or on its back, or mount it to a wall.
Made from rigid plastic with a rubber "foot" on the bottom.
Charcoal, with a light blue base.
Product dimensions:  3.5in x 10.5in x 9.5in
The Plug Hub is a plastic enclosure with a bottom shelf for a power strip. The top of the unit has an enclosed set of three cord anchors to wrap up and hide excess cord.
Quirky's 25 year-old CEO, Ben Kaufman, wanted to top the buzz his company, Mophie,  received at the 2006 Macworld Expo for the Mophie Juice Pack chargeable iPhone case. At the 2007 MacWorld Expo, Kaufman invited expo attendees to help develop their 2007 product line. The Quirky Plug Hub was the result of this social development process. "Rid the Rat's Nest" is the tagline the consumer development team came up with. The result from this social experimenting is a well designed product that does exactly that.
The Plug Hub works as advertised. Unfortunately, like most really cool products, it is over-priced. A $30 plastic case to store a power strip may not be reasonable for some consumers. I can find many uses for this product and would be willing to buy several if the price wasn't so high.
In the ever-evolving electronic consumer market, manufacturers are struggling to determine what consumers want. Getting the consumer's input in the product development process is one way to accomplish that goal. The Quirky Plug Hub meets that challenge but a price adjustment may be required to claim success.
MyMac Review Rating: 7 out of 10