iPazzport Fly/Air Mouse Keyboard
Manufacturer: Pazzport
Model: KP-810-16
MSRP: $40.00
iPazzport Fly/Air Mouse Keyboard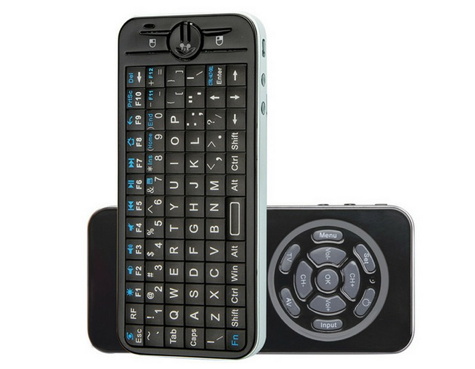 Despite its unconventional name and odd concept, this Air Mouse actually works. Plug the included USB dongle into your Mac (or Windows, Android, Linux machine), turn it on, and your cursor moves around the screen following the movement of your hand courtesy of the built-in "3 axial Gyro-sensor."
The device has single and double-click mouse buttons and a full QWERTY keyboard. Open an email message, for example, type a reply, send, and close all from afar. Flip the device over and you have a multi-button remote that can be used to learn the commands of a TV, DVD player, or receiver. The device can be taught many of the signals from any two remotes.
But now for the issues of practicality. How often would you use an air mouse that needs to be pointed at your Mac? You have to sit close enough to read the screen so using your keyboard and mouse or trackpad would be the most natural choice, not the air mouse. If you are giving a lecture/presentation, you'd be standing in front of your Mac so aiming the air mouse at it wouldn't be practical. Perhaps when your TV really becomes your computer monitor, this device will come into its own.
Typing on the mini-QWERTY keyboard is akin to thumb-texting on a smartphone. The big difference is that the device has no screen because what you type appears on your Mac's screen. Accurate touch-typing with your thumbs is a very difficult skill to master and it's even more difficult here.
At the right end of the keyboard are single and double-click buttons. These are arranged in reverse to those on a mouse—the right hand button single-clicks and the left one double-clicks. Very confusing.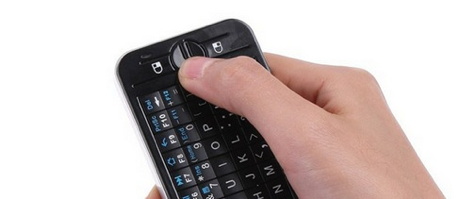 The remote lacks much of the functionality that you need when operating your TV from the couch. There is no numerical keypad, so going from channel 4 to channel 1004 one click at a time is impractical. You only have On/Off, Volume Up/Down and Channel Up/Down and a couple of other buttons; certainly not enough to control a DVR, TiVo or today's complex home entertainment equipment.
The device is a shameless copy of the iPhone's form factor right down to the glossy black front and rear faces and silvery frame. In this case however, it's all plastic and is very lightweight. The iPhone's Volume Up/Down buttons are Page Up and Page Down controls and the Mute switch is the power switch for the remote. On the bottom, the two speaker grilles are replaced by the USB socket for charging the device and a power switch.
Sometimes an item is made because the technology is available to do so; not because there is an actual need or a reason for it. This device works but, unfortunately, it falls into this category.
MyMac review rating: 4 out of 10