Apple Training Series: iMovie '11
Author: Dion Scoppettuolo
Company: Peachpit
Price: $9.59 Ebook
250 pages
ISBN: 978-0-13-269759-0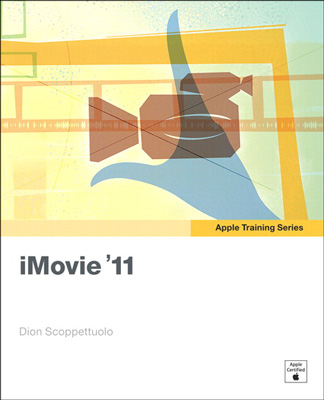 If you're like me, your knowledge of any version of iMovie is just enough to make a decent little movie. No frills or sophisticated editing, just a bit of "splicing and dicing" to create a finished product. I've always wanted to learn more about iMovie and how I can make my movies more interesting to watch. To that end, I read Apple Training Series: iMovie '11 by Dion Scoppettuolo. You should, too.
Apple Training Series: iMovie '11 is taken from the Apple Training Series: iLife '11 book. The book focuses on the everyday user, the person who wants to take the videos of his kids playing soccer or the family vacation and condense it into a fun film that won't make friends and family cringe when they hear the words, "Let's watch some home movies!" If you're looking to become a power user, look elsewhere. This book is for people who simply want to learn how to use iMovie '11 and have fun at the same time.
With most books of this genre, you can thumb through it and go directly to the section you need. I recommend reading Apple Training Series: iMovie '11 from start to finish the first time, following along with the lessons in each chapter. Each chapter builds on the knowledge gained in the previous chapter.
At the start of each chapter, or lesson, is a list of files that will be used, the approximate time needed to complete the lesson, and the goals of the lesson. Each lesson has lots of screen shots and step-by-step instructions to complete a given task. Lessons end with a "Lesson Review," followed by the answers to further enhance learning. I found the time listed to complete the lesson was overstated; the time actually needed is dependent on your existing knowledge of iMovie and how quickly you understand the concepts presented. Like they say, your mileage may vary.
Lesson 1 of Apple Training Series: iMovie '11 goes over the basics of iMovie '11, explaining each component of the iMovie window, importing clips into iMovie, choosing best and worst clips, using themes and transition, and exporting movies.
The book continues with creating and personalizing Movie Trailers, a new feature in iMovie '11. Movie Trailers is a fun and whimsical way to share a preview of what's to come in your movie. Once you understand Movie Trailers you'll want to play with all the different genres. Go ahead-have fun! The point of Apple Training Series: iMovie '11 is not just to learn, but to have fun doing so.
Now that you're more familiar with iMovie '11, it's time to really dive in. Learn about enhancing clips, working with audio, adding photos to a project, special effects, cutaways, clip stabilization, and advanced tools. Apple Training Series: iMovie '11 ends with Lesson 7 and a discussion of managing events, using keywords, the differences between video formats, and backing up your work and clips.
As a bonus, Peachpit included Lesson 8: Creating a DVD with iDVD, and Lesson 9: Designing a Web site with iWeb. I only skimmed over the iWeb particulars due to the upcoming Mobile Me closure in June 2012, though some readers may pick up a nugget or two of useful information. I was, however, very impressed with the lesson on iDVD. In the past, after creating a movie I would send it to iDVD for burning. I used themes and music, as with iMovie, nothing fancy or special. After reading and finishing this lesson I realized it doesn't take much effort to make a DVD much more professional looking and attractive to navigate.
Before you rush to open a new tab in your browser and head to Peachpit's web site to buy this Ebook, a few things you should know:
• this book is in Ebook format only
• you need to have iLife '11 installed in order to follow along
• the lesson files must be downloaded from Peachpit's web site. The .dmg file is almost
7GB, and the files are another 1GB, so be sure to have plenty of hard drive space
available. Also, it took three hours for the .dmg to download; you might want to start
the process before bed or when you'll be away from your computer.
Apple Training Series: iMovie '11 emphasizes hands-on training, which is a great way for me to learn. I appreciate the comprehensive, clickable index, an easy way to look up exactly what you need at any given moment and be on that page with just one click. This Ebook would be a perfect resource to help a teacher incorporate movie making into the curriculum, guide a new user on the ins and outs of iMovie, or assist someone with a little more iMovie experience bring his movie editing skills to the next level.
MyMac.com Review Rating: 9 out of 10