Universal Tablet Headrest Mount
Company: Bracketron, Inc
Price: $39.95
Universal Tablet Headrest Mount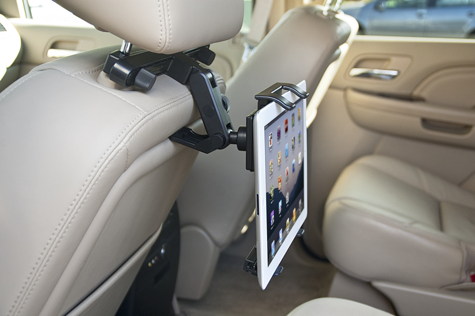 Bracketron provides a clever way to securely mount an iPad (or other tablet) to the headrest of one of the forward seats in your car. A big screen HD TV in the back seat of a car? Well, pretty close! Most car DVD players have fairly small, low resolution screens. The 10 inch iPad retina screen seems gloriously huge and crisp by comparison. It's certainly big enough for everyone in the back seat to see it clearly.
The unit clamps securely onto the front seat's two headrest posts. The bracket that holds the iPad has a support arm that rests on the seatback so car vibrations which can jiggle the screen are minimized, but not entirely eliminated.
This clever device comes in two easy-to-assemble parts and is reasonably compact so it can be stored when not in use. The mounting bracket rotates so that portrait or landscape viewing is possible. It also tilts so it can be adjusted to a comfortable viewing angle.
This mount is lot of plastic but it does its job well. The only complaint that an iPad owner might have is that the clamps that hold the iPad in place are "universal", meaning that they are designed to hold many other tablets. The ends of the clamps protrude a good half inch or so beyond the iPad screen and could easily be snagged by a sleeve or other clothing when people get in or out of the car. On the other hand, if your iPad is in a case, chances are good that it will fit in the clamps without removing the case.
MyMac rating 8 out of 10