Twist360
Company: Bracketron, Inc.
Price: $39.95
Bracketron Twist360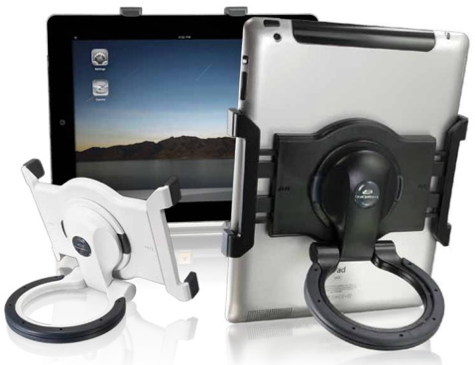 Bracketron's Twist360 has four spring clips to securely grip the iPad (as well as many other tablets and e-readers). With the device attached, the iPad can be propped up on a table or other flat surface. The 4-inch ring on the back can be adjusted to a comfortable viewing angle. This ring also rotates so that the iPad can be viewed horizontally or vertically. It is encased in silicone so it doesn't slide and it also serves as a comfortable carrying handle.
This is a useful, if not particularly attractive device. It's very sturdy and can be used comfortably on your lap, on a desk in the office, on a coffee table, in bed, and it's perfect for use on an airline tray table. The ring on the back folds when not in use and it can be removed completely if necessary. You'll find that you tend to leave it on your iPad when you are home because it is very convenient in nearly all situations.
A small point—the four clips that hold the iPad are a one-size-fits-all solution that will grip much thicker devices. This means that when the slim iPad is installed, the clips extend more than 1/4 inch above the screen. It might have been better if Bracketron had either made a separate iPad version or had included an extra set of the larger snap-on clips to fit thicker tablets. As it is, it feels a bit clumsy with clips that extend quite high above the iPad's surface. However, if your iPad is in a case, chances are that the clips may accommodate it without the case having to be removed.
MyMac rating 8 out of 10