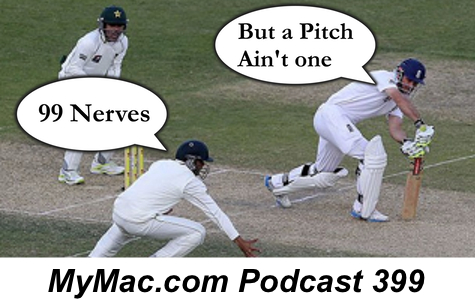 Download the show here
Subscribe in iTunes
Poor Gaz has the worst luck with iPhones, but the tale may have a happy ending! Guy is home alone with two teenagers and he can't wait for the wife to et home so they can't double-team him anymore. There is a lot of feedback on various topics from you, our great listeners and we really appreciate it. Apple seems to be in hot water for allegedly colluding with eBook publishers but it's really not that simple.
This is your LAST chance to enter the 400TH podcast contest. After this week we close the door. Here's what's there so far:
ALK Technologies Co-Pilot iOS GPS App
BusyMac's BusyCal
Splasm Software's AudioBook Builder and CheckBook Pro
ZeoBIT's MacKeeper 2012
Boinx Software's iStopMotion Pro, FotoMagico Pro, and BoinxTV
MacPhun Software's FX Studio Pro
Noodlesoft's Hazel
Plasq Software's Comic Life 2 and Comic Life for the iPad
Publication International's iCookBook
RealMac Software's RapidWeaver, Analog, and Courier
Reggie Ashworth's AppDelete (App Store), AppDelete (Web site), and VidConvert (WebSite)
Slinkware Software's Slink
Smile Software's TextExpander, PDDpenPro, and DiscLabel
TwistedWave's TwistedWave audio editing app for iOS
Just go to FaceBook and like the MyMac Podcast page and…that's it! No other barrier to entry.
Some links:
Japanese beer serving robot!
Understanding the Agency Model
Why the DOJ may lose the eBook anti-trust case against Apple
What Macmillan's CEO has to say
This week's podcast music is from Fresh Body Shop – Bring Me Down