NuCube Vertical Stand
Company: Other World Computing
Price: $35.99 MSRP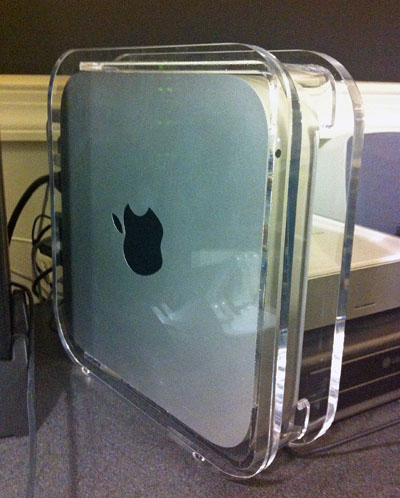 When I purchased a new 2011 Mac mini several months back, it replaced an older Mac that had to sit on the floor under the desk in my office at home. The new Mac mini was definitely smaller size-wise and was now proudly sitting on top of my desk. The one thing I soon discovered was that with everything else that I had on my desk, even the Mac mini was eating up space.
 
Enter Other World Computing's NuCube Vertical Stand, a polished clear acrylic stand that holds your Mac mini upright and reduces the mini's fingerprint on your desktop. Weighing in at almost 2 1/2 pounds, the NuCube Vertical Stand allows you to stand your mini vertical and not to have any worries about it tipping over, even if the family cat thinks it's a great addition to the desktop and something to check out when it sneaks into the room. The non-skid rubber feet on the bottom help prevent the stand from moving around.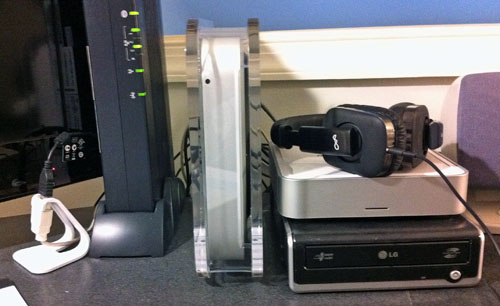 Designed to hold Mac mini models sold after the 2010 model, there is a slot on the front of the unit that permits air to enter and the back side is wide open, permitting you to have full access to all the ports. As you can see in the photo below, the Stand does make a definite impact on desktop space. First Impression was a work of art that fits in very well with the Mac's overall design and look.
One of the items in OWC's information on the Stand is that the Stand is heat test and that the mini runs cooler in the vertical position. So I tested it out over the space of several weeks, using iStat Pro to monitor the temperature of my mini as I used it. The first shot below shows the internal temperature before I placed the unit into the Stand. The second shot shows the internal temperature two weeks later and the third shot is also two weeks after the second. I noticed a drop of several degrees as shown in the report and this continued whenever I checked to see how the temperature was doing with the unit vertical in the Stand. Not bad at all, if I do say so.



If you are looking to save some desktop space and have a 2011 Mac mini, consider OWC's NuCube Vertical Stand as an option.
So to review; clear polished acrylic stand, solid, full access to the rear ports, definitely saves desktop space and presents a great impression when viewed.
All in all, I give the Express SuperSpeed Enclosure a My Mac rating of 8 out of a possible 10.