Express USB 3.0 SuperSpeed Enclosure
Company: Other World Computing
Price: $19.79 MSRP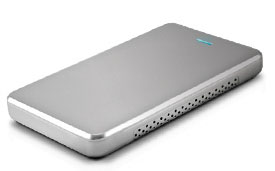 The years 2010 and 2011 saw the prices of hard drives drop continuously to where users everywhere could make a purchase without really breaking the bank. Then in October of 2011 disaster struck in the form of extreme flooding in Thailand where numerous people lost their lives and the flooding devastated the locations where hard drives were being manufactured. These losses resulted in soaring prices and a very limited supply of available products.
Taking all of this into consideration, and with the economy being the way it is, it just makes sense to recycle/reuse what one has on hand. Other World Computing has provided a handy, economical solution to the problem. Enter the Express USB 3.0 SuperSpeed Enclosure.
Designed for 2.5″ SATA hard drives, the unit is very lightweight, weighing only 2 ounces empty, compatible with either Mac or PC computers and comes with a USB connecting cable and a carrying sleeve, the unit makes for a very economical way to reuse a hard drive that you may have laying around your house. The enclosure can also be used with a SSD drive in case you have one available. In my case, it was a 120GB SATA hard drive that I had removed from my Macbook when I purchased it and had upgraded the hard drive to a 500GB unit. The old hard drive had just been sitting in the closet not being used.

Installation of the hard drive into the enclosure took me all of two minutes to open the enclosure, insert the hard drive, seat it, place the other half of the enclosure onto the other side, and to screw the enclosure together with the two screws that are provided. I simply plugged the USB cable into the enclosure, inserted the other end in a USB port on my Mac, and reformatted it. I have really gotten more involved in photography, both using my iPhone for those sudden impulse shots, and my digital camera when I'm out doing something and want to do some more planned shots. So my little used 120GB hard drive has now become my digital photo portable repository when I'm traveling around. Going to visit my kids, I can simply pop the enclosure into the case and put in my computer bag or even in my coat pocket. I can then pass along some of my photos by simply plugging my enclosure into their Mac or copy some that they have taken to add to my collection.

Now, quite honestly, since Apple has yet to up USB speeds to 3.0, I can't provide a hands on report of how it works at those speeds. However, just with a USB 2.0 set up, transfer times are speedy. I've had no issues at all switching between Macs and I had at the beginning even formatted the hard drive for use with a PC and encountered no problems. I will point out that since this enclosure draws its power from the USB port, one cannot reformat the hard drive and use it with the Mac OS installed as you can with a AC powered unit. In all my time using the enclosure, it has remained cool to the touch.
However, for the reasonable price that the unit is sold for, one would have to be blind to the capability of reusing a hard drive that you may have on hand, at least until the prices of hard drives does come back down to reasonable levels, which most analysts believe won't occur until possibly 2013. So if you are looking for an enclosure to put a 2.5″ hard drive or SSD into to solve a storage issue, really give OWC's Express SuperSpeed Enclosure a close look. I don't think that you will be disappointed.
All in all, I give the Express SuperSpeed Enclosure a My Mac rating of 9 out of a possible 10.