ReSyncCable – Retractable USB to 30 pin cable
Price: $19.99 US
DualSync – Retractable USB to Micro USB/30 Pin for iPod, iPhone, iPad and most smartphones
Price: $24.99 US
Company: Macally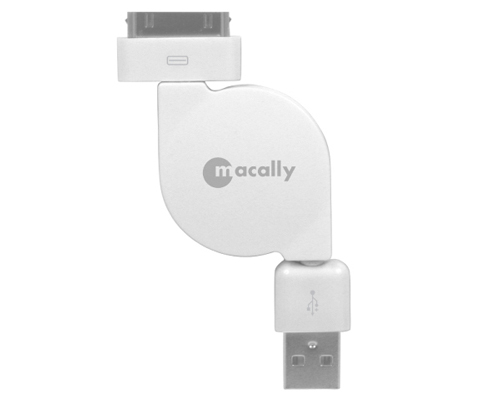 If you own an iPod, an iPhone, or another smartphone, eventually you're going to hit the end of its battery and will need to recharge. If you're at home or at the office or at school, a long cable on the desk may not be a bad thing. But on the road, in your laptop or iPad bag, bringing those long cables may not be the best choice. Welcome to the world of retractable cables.
The Macally ReSyncCable and the DualSync cable are very solid and can be used to charge or sync your devices. They both extend to 20 inches in length, but when retracted they don't take much more than two inches in your bag. The ReSyncCable is a USB to 30 pin connector specific to iOS devices from Apple. The DualSync is similar, but it terminates with a Micro USB plug, that can be used to charge smartphones or a Bluetooth headset that uses this interface. The DualSync comes with a Micro USB to 30 pin adapter to be used with an iOS device.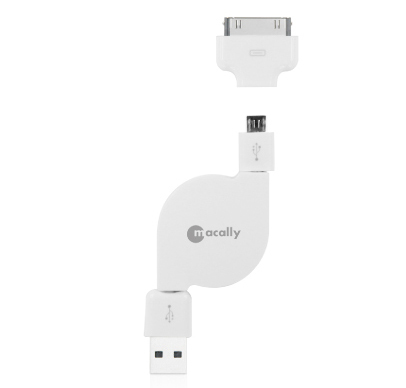 Both cables have very good retention when extended. I bought a few retractable cables in the past, and some of them do not stay in their extended position. That is very bad when you extend the cable and it springs back into its barrel when you are using it. Macally really made theirs worth buying for this reason alone. My only complaint is that I would have liked to have them extend  five more inches. But considering their robust build, I can pass over that easily.
If you have an iPhone with a Bluetooth earpiece, the DualSync is the way you should go. You will be able to use the same cable to charge both devices, in addition to syncing your iPhone. If you use a smartphone other than the iPhone, the Micro USB port is now becoming more and more standard. The ReSyncCable is of great value if you are searching for a portable cable for an iOS device only. And since they take so little space in your bag, and the price is very low, you can buy one of each and be ready to help a friend in need if necessary!
ReSyncCable MyMac Review Rating: 9 out of 10
DualSync MyMac Review Rating: 9 out of 10