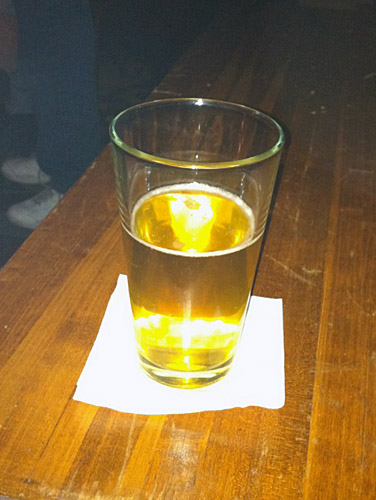 Wednesday morning marked another fine breakfast at, yes, you guessed it, Mel's Diner. It's good, wholesome (fattening) food, well-prepared, and reasonably priced. What more can you ask of a diner?
Well, the fearless leader of the show floor, John Nemo, was out of action today with a bad cold, so we have had to soldier on without him, trying, with Owen Rubin's able assistance, to work through Nemo's schedule of vendor meetings. I made another pass at the first few rows on the floor, along with, for the first time (for me), the MacOS X Developer's area, where there were a number of mini-booths with often really interesting product.
First, I visited the booth of Sheep Systems, author of BookMacster, as they call it: The Bookmark Master for your Mac. It's a great way to manage large lists of bookmarks which, for most of us, are out of control. They also publish FileGoBack, a utility for browsing past file versions stored in your Time Machine database. Next was a visit to Unmarked Software, home of the TextSoap application. TextSoap is an advanced file cleanup tool. I'm sure many of you have received emails and other files that may have passed through a Windows PC or Linux machine at one time or another, and have serious formatting issues, such as people formatting plain text with hard returns and other nonsense. TextSoap cleans up dozens of different formatting faux pas, giving you a document you can then easily edit and otherwise work with. Splasm Software has a number of interesting little programs including CheckBook Pro, for, well, working with your checkbook. They also have a terrific little utility called Audiobook Builder, which you can use to merge the scores of tiny little audio files you find when you try to rip an audiobook for use on your iPod. It renames them in an intuitive way to ensure you will be able to find the files on your iPod, and ensure they play back in the correct sequence. It also converts AIFF-formatted files to MP3 on the fly. Rage Software showed their suite of web development tools, used to create sites and optimize them for improved search engine ranking. Realmac Software showed the latest update (version 5) to their popular web authoring program, RapidWeaver.
I then went out to the main floor and began re-examining some of the vendor wares. Western Digital had a neat booth showing off their new (not shipping yet) Thunderbolt-based external hard drives that were well beyond being even wickedly fast (what's faster than wickedly fast?). They also showed their new WD TV Live streaming media player, now with a 1-terabyte drive for storing programs for later viewing. From what I could see on the show floor, its user interface isn't as sophisticated some of the open source media server apps, such as Plex, but it is DLNA-compatible, which makes it good friends with equally DLNA-compliant NAS devices and such.
With the threat of viruses and malware that are probably coming soon to the Mac platform, a number of vendors have put out new tools and updates to existing tools. SecureMac showed new versions of PrivacyScan, used to handle secure shredding, and identifies online and offline privacy threats, and MacScan, used to scan for malware and spyware, with regular definition updates. A new player to the Mac marketplace, ESET, offers the ESET Cybersecurity for Mac package. It was designed up front to have a low memory and processor power footprint, so unlike other antivirus apps, this one should not hinder your workflow or slow you down when you need all the processing power you can muster.
Mixel showed their collaborative (read that social) collage-making iPad app. Looks like a lot of fun. It's free, too. Last on the list was an interesting product, though not exactly mainstream. It's Mindwrap's Filed Right, an advanced document management solution for small businesses. If you need to be able to locate your documents for future use (such as a law or accounting firm), this system will help you manage the huge amounts of paper that go through your office on a daily basis.
That was the last vendor I visited that way. We all went back to the hotel to freshen up and prepare for the evening's parties. Parties are a traditional part of the Macworld tradition, and Friday night was no exception. We started with the NosillaCast Podcast party at Jillian's a famous San Francisco watering hole and billiard establishment, put on by Allison Sheridan and a dedicated group of volunteers and fans. It was a nice, quiet start to the evening. Nice noshes. Thanks for the invite!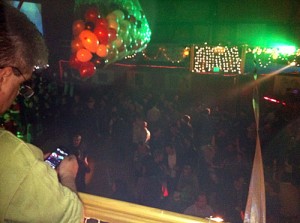 We followed this with one of the more waited-for events, the Cirque du Mac (by invitation only), hosted by a number of vendors. It was held at the Broadway Studios bar on Broadway St., where many of the more "interesting" nightspots are located.
This being an event for Apple fans, a small remembrance of the recently-departed Steve Jobs was also on display.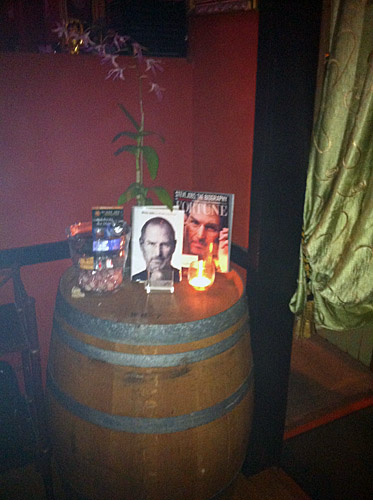 The big attraction of this party, along with meeting a bunch of great Apple fans, is the annual appearance of the Macworld All-Star Band, which is comprised of some of the top journalists in the Apple community, including Chris Breen, Paul Kent, Chuck LaTournous, Duane Straub, Bryan Chaffin, and Dave Hamilton.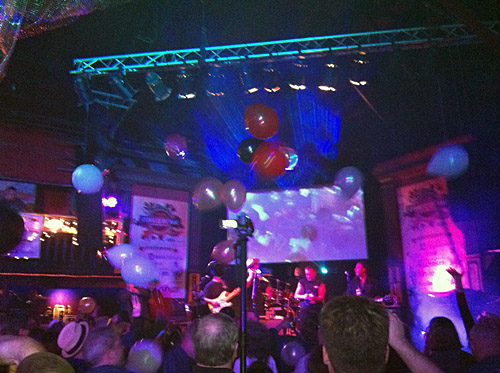 Truly, a good time was had by all, and not just because of the open bar and the parting gift of the traditional Cirque du Mac t-shirt (collect 'em all!).
Somehow, I made it back to my hotel, to prepare for the final day's adventures.
Final report and show observations tomorrow.