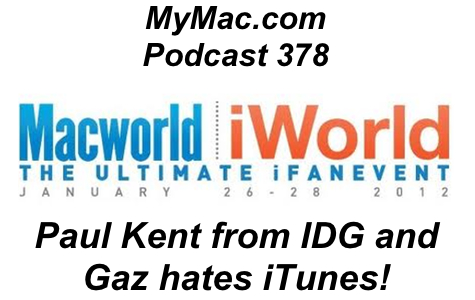 Download and listen here
Subscribe in iTunes
Only about one and a half months togo until Macworld/iWorld! Hope you've got your hotel and flights arranged. Paul Kent from IDG comes on to talk about the new stuff this year and chat about his feelings (what?). Gaz hates iTunes or did until Lion seemed to straighten out most of his issues…well that and a new Mac. Twitter gets weird for the GMen and not one, but TWO new iTunes reviews! WOOT!
Some links:
Tips on buying new or refurbished Macs
Machinarium by Aminita Design  £6.99 $9.99 $4.99
Slot Machine + by Apostek Software .99
The Music:
Josh Woodward – Not Quite Connected
Mayfair FM – Easy Songs for a Black Summer
Please visit and check out the artists that supply great music to our podcast!
Contact info: Drop us a line and let us know you want to be on the show. Gaz and Guy on Twitter, guy@mymac.com and gaz@mymac.com, or our Skype direct number 703-436-9501. Also go into iTunes and leave some feedback. Also don't forget our FaceBook Page!