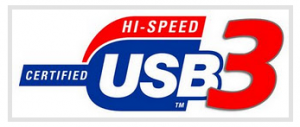 To USB 3, or Not to USB 3. That is the question.
Part 2 (Read Part 1 )
Back in September, I decided to see if USB 3 was worth my time and money. I installed a USB 3 PCI card (CalDigit SuperSpeed USB 3.0 Card – $79.00 USD) in my Mac Pro and set out to take a look at drives that offered USB 3 as an interface option.
As you can see in this chart, USB 3 is advertised as being much faster than USB 2 or Firewire 800, but much slower than Thunderbolt.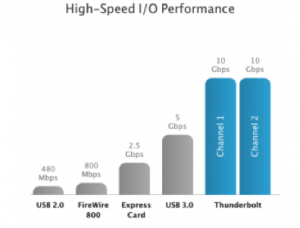 I do have a Thunderbolt port on my new Macbook Air but there are no drives out there yet, and there may not be any Thunderbolt drives for a while with the flooding in Thailand. Listen to Techfan Podcast #55Â for more information.
In my quest to understand if USB 3 lives up to the hype I had an opportunity to test two additional drives. Part 3 will be coming soon.
MiniPro 2.5″ FireWire 800, USB 3.0 Portable Hard Drive
Oyen Digital
MiniPro 2.5″ 60GB SSD Silver Mac model reviewed – $179.95
The MiniPro enclosure is brushed aluminum with four rubber feet to keep the drive from sliding off your desk. However, if it did slide off your desk and hit the floor you won't have much to worry about. Since this drive has an internal SSD (Solid State Drive) and no moving parts, it can withstand high impact. When the drive is powered up, or writing, a blue led indicator is visible in the front. The MiniPro is small and light, measuring 4.9 x 3.1 x .9 inches.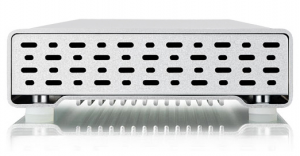 When looking at the back of the enclosure you can see it has two FW800 ports and one USB 3.0 port.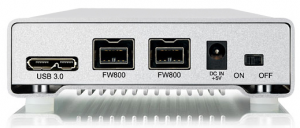 Let's talk about the speed.
I copied a series of folders containing different kinds of files over to the MiniPro and used a stopwatch to discover which port was fastest.
Here are the results:
Copy a 4.95GB folder of mixed data files:
USB 2 – 161 seconds
USB 3 – 64 seconds
USB 3 was 60% faster
FW 800 – 80 seconds
USB 3 was 20% faster
 Copy a 1.21 GB mixed audio folder:
USB 2 – 36 seconds
USB 3 – 14 seconds
USB 3 was 61% faster
FW 800 – 17 seconds
USB 3 was 18% faster
 Copy a 7.65 GB video folder:
USB 2 – 232 seconds
USB 3 – 133 seconds
USB 3 was 43% faster
FW 800 – 144 seconds
USB 3 was 8% faster
So far this is the fastest USB 3 drive I have tested, and I am starting to believe that USB 3 is significantly faster than USB 2, but if you look at the chart at the beginning of this article you can see that USB 3 is supposed to be much faster than FW 800 and my testing did not show that. The other factor is the use of the SSDs. Of course I realize that this is not a scientific test, but I think it represents what you and I will see out here in the real world. However, what I did find interesting is how close FW 800 came to the the USB 3 speed. FW 800 is an interface most of us already have. I also noticed that when using the regular USB 2 connection the drive seemed much faster than other USB 2 drives I have used. I attribute this to the SSD used in this configuration.
Oyen Digital offers the MiniPro in several different capacities: 60GB to 480GB SSDs and 250GB to 1TB for conventional hard drives. It also comes in black. It would be an understatement to say this drive was "whisper" quiet. Due to its SSD the MiniPro makes no sound whatsoever. In fact, if you placed a rock on your desk you can expect the same level of noise from the MiniPro.
This drive comes with a USB 3 y-cable and a FW 800 cable. You usually don't get an AC power adapter with these small drives, but Oyen does include one. There is also software that "comes with" the drive, but you have to download it from the Oyen site. This reviewer did not receive software or the AC power adapter so I can not offer my view on these items. Oyen states, "Each retail drive includes a glossy card that provides download instructions and a serial number for the software. The software is optional and is not pre-installed on the drive. We don't believe in pre-installing software on our hard drives, but rather we allow the user to choose whether or not they want to download and install." Oyen also sells small cases to carry the drive.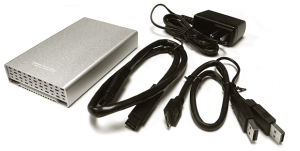 In conclusion, this is the fastest USB drive I have ever used whether USB 3 or USB 2, and FW 800 connection is no slouch either. The unit is as quiet as a rock (SSD model) and comes with all of the cables you need to use it right out of the box. I don't like the included USB 2/3 cable. It is in a "Y" configuration so you can make two USB connections for extra power. I did not find a Mac that needed to have a double USB connection to power the unit, which means you have this extra cable hanging around. However, that might not be the case in the Windows world.
MyMac Review Rating – 9 out of 10