BookBook for Air
$79.99
Twelve South

  Back in December of 2010 I reviewed the BookBook for iPad. I still use that case because of the construction and protection it gives my iPad as well as the way it disguises it. The BookBook for MacBook Air brings that same protection to Apple's lightweight portable line of computers.
Physical Protection:
The BookBook for MacBook Air (heretofore called the BBA) has a soft interior that cushions your MacBook Air though the aluminum shell needs much less protection than an iPad. Hardback covers and reinforced corners provide impact protection. Impact damage to your laptop is not likely because the hard protective inner frame coupled with the hard spine offers very good crush protection. Drop the case and the tough spine and reinforced corners take the brunt of the impact. Two elastic bands along the inside top half of the BBA help to steady and hold your laptop in place. When these straps are used, and you open the case, your MacBook Air is ready for action.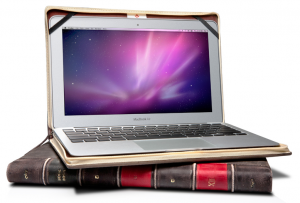 Dual zippers keep the case closed and they seal out dust and dirt. You can even charge your Mac while it is in the BBA by closing the zippers around the charging cable. Did I mention the BBA only weighs in at 13.5 ounces and is almost as thin as your MacBook?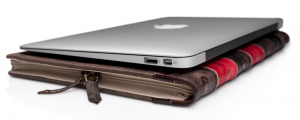 The perfect disguise?
The BBA resembles a vintage tome. Each case is made with genuine leather and hand distressed so no two look exactly the same. Can it fool anyone? Just as I took the iPad BookBook case to work with me and approached several fellow employees I did the same with the BBA. Once again everyone who handled the BBA tried to open it. They were completely fooled.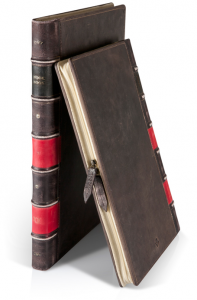 If you were to leave your BookBook on a coffee table, on a desk, or in a dorm room, I am convinced no one would know your MacBook Air is in there.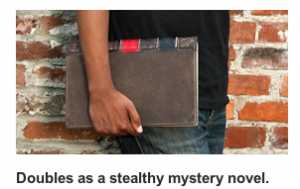 The BookBook for MacBook Air is clever and beautiful all at the same time. Twelve South offers the case for either the 11" or 13" MacBook Air.
MyMac Review Rating – A RARE PERFECT SCORE: 10 out of 10