iAudition
App Developer: Everyday Giants LLC
Version Reviewed: 2.0
License: US$5.99

iAudition allows you to record vocal statements no matter where you are. Voice over artists, podcasters, and journalists alike will rejoice at the simplicity and control this app has to offer.
The first thing you will notice upon launching the app is the large record button placed squarely in the middle of the display. Simply tap and start recording. It is really that quick!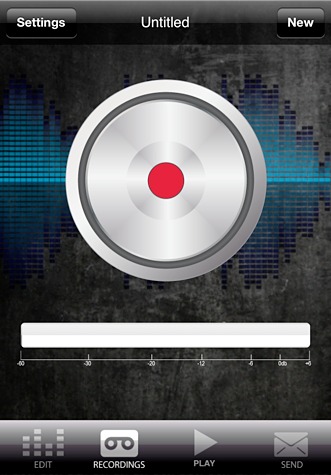 During the recording session you are able to pause at anytime and resume prior to saving the recording. Listening to the recorded audio does present an addition problem as the complete recording will stop, save, and you will need to start a new recording in order to continue. At no time can you merge two recordings together or add additional audio to an already recorded track.
Multitasking on your iOS device also had mixed results. In some instances recording continued as you performed functions in other apps. Others would simply cause instability with iAudition. In testing I found any app utilized the audio functionality of the device would cause iAudition to pause the recording. This meant that you are unable to record a Skype conversation, something this app would be perfectly suited for.
During and prior to recording you will be presented with a basic volume input meter. This allows you to monitor input levels to prevent excessively high or low voice volume.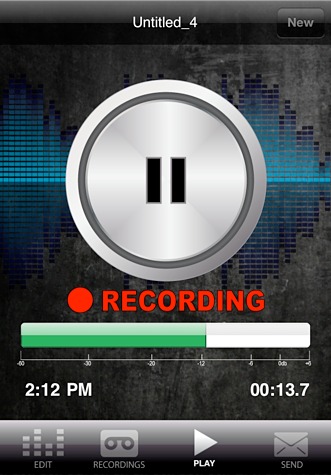 Audio quality is always dependent on the input quality of your device and this app is no different. The input sound quality of the iPhone is certainly sufficient for most quick note taking needs, as are the iPhone bundled earphones with in-line microphone.
Being a podcaster I understand the need for the highest possible audio reproduction. iAudition understands this also and has built in support for attaching professional studio microphones such as the Samson Meteor Mic. This functionality means you can continue producing high quality audio where ever you are.
Once your first recording is done you have the ability to perform some basic editing. You will be presented with an audio waveform giving you a visual representation of the recording. The ability to pinch and zoom is present, and controls are given for start and end points. These controls work seamlessly with the cut, copy, and paste options. Using these tools you are able to reassemble your recording as you see fit. If you make an error simply tap the undo button. Redo is also available should you change your mind.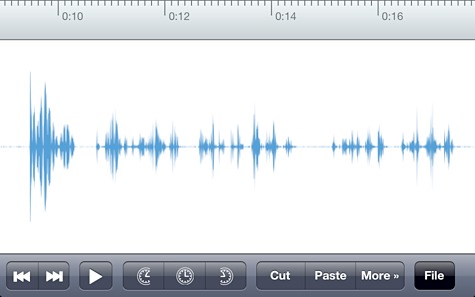 Once your satisfied with you're edit you can save over the original file or perform a Save As. I recommend the later in order to preserve the original recording. Both save options are manual as no autosave functionality is available from the editing window.
When it comes time to sharing your audio you have two options: email or FTP (File Transfer Protocol). Either process will convert the recording to a .MP3 file at 128kbps. This file format and size is sufficient for spoken audio. The export functionality is hindered by the slow conversion. On the iPhone 4 I was experiencing a 1:1 time ratio in the export process. The iPad 2 performed slightly better but it is something to be aware of should your recording exceed a few minutes. There is no background processing for the app so you are unable to continue other tasks whilst the conversion is taking place.
The audio files can be sent via Wi-Fi or over a 3G network. The developer does recommend a Wi-Fi network when possible as continuous speeds are generally faster and more reliable. In most regions 3G data costs are still excessive and that also needs to be taken into consideration when sending audio files exceeding a few minutes.
There is no limit to the length of time you can record other than the amount of storage available on your device. This is a positive as Apple's GarageBand for iOS is limited to 10 minutes per recording.
One severe limiting factor is the inability to connect your device to iTunes, navigate to the apps area of your device, and have access to your recordings via File Sharing. Many apps use this facility thereby making it significantly easier to then add audio to GarageBand on the Mac or simply back it up.
iAudition has many positives and will serve its intended target market of voice over artists and journalists well.
The initial launch to record step in the app is superbly fast. The ability to perform basic editing and exporting tasks, all from within the app, is certainly a plus to anyone on the move. With support for professional microphones via Apple's iPad Camera Connection Kit you can certain perform at your very best.
Whilst there are a number of limitations, they can be further improved in updated editions. The ability to export to Dropbox would be appreciated as would access to the recorded files via iTunes. Multi-track recording and editing are desired along with the ability to continue recording to the saved files and merging of audio clips.
At US$5.99 the app is too expensive. Apple's GarageBand for iOS is a full dollar cheaper and has more editing and export options.
Therefore, I am awarding this app a MyMac.com rating of 6 out of 10.