BassJump 2 USB-Powered Sub Woofer Speaker
TwelveSouth
Price:$70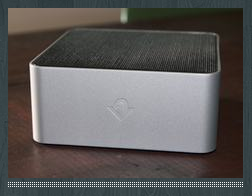 MacBook Pro, Air, and MacBook built-in speakers are lousy, especially on the low end of the audio spectrum, often called the bass range. TwelveSouth's new BassJump 2 allows frustrated Mac laptop listeners to boost the bass range with simplicity.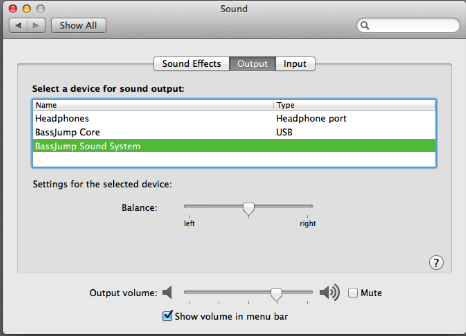 After reading a slim Getting Started printed set of included instructions, users quickly can download and install a custom BassJump System Preference. BassJump 2, a compact, stylish speaker enclosure with one small bass speaker, is connected to a MacBook and powered by a 30 inch included USB cable that is 30 inches too short. A too-snug carrying case is also provided.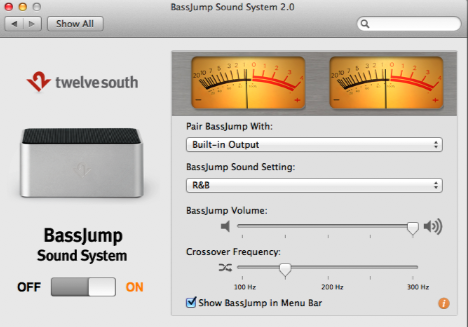 Seconds later, your music has bass oomph that was severely lacking previously. Navigate to the BassJump Sound Setting that fits your style of music or spoken word, and you never again will settle for only those crummy MacBook deck speakers.
Not much additional volume is provided by BassJump 2. If you are only listening by yourself in a quiet room, you may be satisfied. Otherwise, add some inexpensive USB-powered or rechargeable battery-powered external speakers, any speakers, for a terrific audio experience. You may lose two USB ports, which won't be a crisis when out and about. That can be remedied when you're stationary with a powered USB hub.
TwelveSouth claims their BassJump software runs on Mac OS 10.5.8 or higher. Not true. It crashes on my 10.5 Leopard volume. Stick with Snow Leopard 10.6 and Lion 10.7 and you won't have software problems.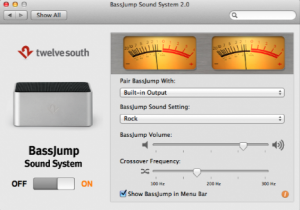 Another claim is that BassJump 2 is a "fully customizable 2.1 portable sound system." Customization is possible in the BassJump Sound System 2.0 preference pane, but the resulting sound enhancements are not dramatic until you add that other external speaker. R&B and Rock are the two presets that provide the best listener experience.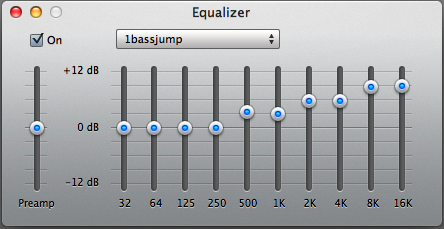 iTunes' Equalizer makes a huge difference when used by intrepid listeners, both with and without BassJump 2. In non-EQ situations, such as Pandora, MOG, and other Internet radio streams, BassJump 2 makes the sound a little better with Apple's MacBook speakers, and a lot better when external speakers are added.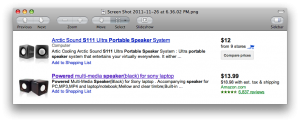 What are some alternatives to spending $70 for bass boost, and a bit more for inexpensive USB-powered speakers? There are none, if your budget is under-$100. If you can squeeze a little more out of your piggy bank, a viable alternative is SuperTooth Disco, an exceptional battery-powered, wireless Bluetooth one-piece speaker, used with or without BassJump 2.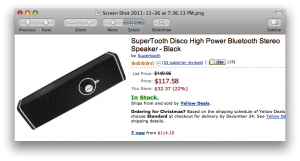 Would I purchase TwelveSouth's BassJump 2? Yes, if it was $20 less expensive, had a more spacious carrying case, and came with a longer USB cable. It does the job as advertised, but there is room for improvement in the software and accessories.
Read the company's enthusiastic prose on the product's web site, plus the specs and FAQ page. Read other user reports too. TwelveSouth is a really good Mac-only company. With some creative engineering and design improvements they can make future BassJump models even better.
MyMac Review Rating: 6 out of 10