Dolly Drive
Available For Mac OS X Snow Leopard & OS X Lion
OS X Lion Version Reviewed: 1.3
Licence: From US$6.25 per month
Remember the world's first cloned sheep, Dolly?
Dolly is back in the form of Dolly Drive, an online backup service and cloning tool for users of Apple's Time Machine.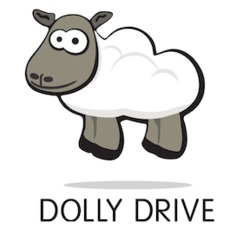 Dolly Drive takes the inbuilt Time Machine application and expands its possibilities. The service will allow you to store your Time Machine content in the cloud from any location in the world. The online storage ability is a welcome addition to Time Machine. You are also able to create a bootable cloned drive using the Dolly Drive application. 
The signup and installation processes went smoothly. Depending on your skill level you may wish to utilise the free Dolly-on-One setup service.This is similar to that of an Apple Genius appointment only delivered completely online.
Dolly Drive offers a wide range of price options that will be attainable for all consumers regardless of the level of storage required. Every month you stay subscribed you will receive an additional 5GB of storage. Subscribe to the service for a year and you have an additional 60GB of storage that will not cost you an additional cent. This makes it easy for users to expand their backup whilst not necessarily needing to upgrade their plan. Prices start from as little as US$3.00 per month for 50GB of storage. At the top end you can subscribe to 2TB of storage for as low as US$40.00 per month.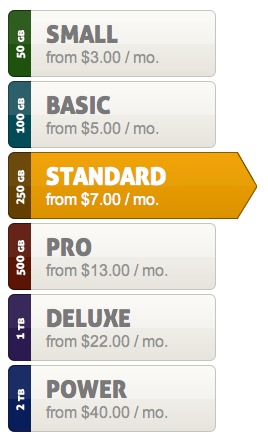 One disappointment is the exclusion of a trial version of the service. Whilst their documentation and online getting started articles are extremely helpful I believe many consumers would like to try before they buy.
Upon choosing the plan that suits your needs and installing the companion application, you will need to elect the files you wish to have backed up via Time Machine to the service. By default all files on your Mac will be included. One limitation of the default setting is should you purchase anything less than the Pro plan, you will likely exceed the available storage rather quickly. The Dolly Drive companion app does allow users to set an inclusions list that will enable you only to back up the exact files and directories you desire. Remember you can make a bootable clone drive to a local external hard drive using the same application.
Making a bootable clone is one of the easiest ways to never lose information. Hard drives will fail. It is simply a question of when. Dolly Drive has made this process seamless by giving users the ability to create a bootable cloned drive directly from the application. All you need is a spare hard drive with at least the same amount of storage as that of your internal drive.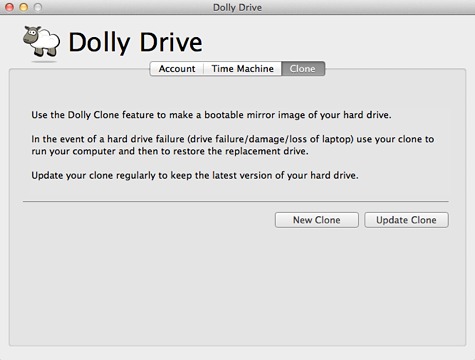 It is recommended that you perform a bootable clone backup to a external drive using the Dolly Drive application before commencing your initial online backup. To check reliability of the backup simply connect the drive to your Mac, hold down the Option key on boot up, and select the cloned drive your wish to boot from as shown on the display.
Upon selecting the files, folders, and directories you wish to backup the initial upload to the Dolly Drive servers can begin. The Time Machine System Preference panel and Menu Bar icon will also present information regarding the current process of your backup. Users who have been used to using Time Machine for backups may be wondering how long the initial upload process will take. Dolly Drive indicates that users can expect an average of between 4-8GB of data to be transferred to the server each day. The upload speed in most cases is limited to users Internet connections. Please remember that upload speeds are generally slower than download speeds.
One limitation I came across was not being able to set the specific transfer speed for the upload. Many users will find this limiting as you will need to pause the Dolly Drive backup process when undertaking such tasks as Skype calls. It would be nice to have an option to limit the upload speed to as little as a few Kb/s, to maintain the backup procedure whilst undertaking daily work requirements.
Dolly Drive will undertake hourly backups after the previous backup has been completed. You can turn this functionality off thereby requiring users to manually select when to backup. I would recommend you leave the hourly updates in place to avoid the human factor of forgetfulness. It would be good to see additional settings available in order to specify times and dates for backups to occur.
Part of any backup procedure online is the ability to pause and resume uploads to the service. If you're a MacBook Pro user you would no doubt need to stop the upload prior to changing locations. The service gives you this level of control directly from the Time Machine Menu Bar icon. Even if you are accidentally disconnected from the Internet the service will recommence from where it left off previously.
The online restoration from the Dolly Drive servers is just as easy. Simply launch the Time Machine application and you will be presented with all your backup content that is stored on the server. It looks and feels exactly like Time Machine with the ability to navigate to individual backup dates, and navigate through your file structure. Other than the speed and reliability of your Internet connection there is no limitation in accessing and restoring your content.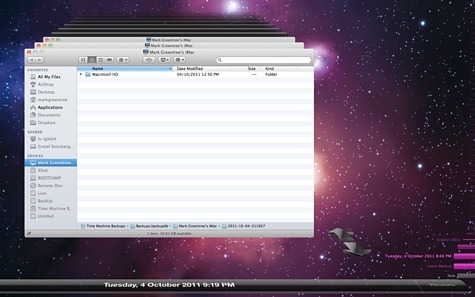 Existing Time Machine users may find using the Dolly Drive service limiting as they generally need to cease other Time Machine backup procedures. This is a limitation with Time Machine itself as it allows you to select only a single backup drive at a time to be used as the automatic Time Machine backup. You can manually change drives but this process is tedious and in my opinion can only lead to failure of your backup solution. The team at Dolly Drive are working on a way to make this process more automatic in a future update of their application. A relatively short statement has been made via the Dolly Drive Support forum.
When you first setup Dolly Drive you may have taken notice that it makes changes to the Time Machine settings. Should you wish to stop using the service and return to a external drive then all you need do is press the Restore button from the Dolly Drive account area in their application. Your previous settings will then be restored allowing you to seamlessly continue with your backup process.
Dolly Drive is a perfect solution for anyone looking to use Time Machine in a slightly different way. It will certainly be helpful to users who travels extensively and don't always have a physical backup drive available.
The reasonable cost of the service along with the additional 5GB of data storage per month will help users with their backup needs and is appropriate for the level of functionality and storage offered.
The main limitation I came across was not being able to control the data upload transfer rate and scheduled times of backups.
Despite only being officially unveiled in January 2011, the service and application are extremely stable and fast. Therefore, I am awarding Dolly Drive a MyMac rating of 8 out of 10.