Products used to create this review:
CalDigit SuperSpeed USB 3.0 Card – $79.00 USD
Data Tale Mobile" 2.5" HDD Enclosure – MSRP – $29.95
FireWire 400/800 and USB 1 and 2 are the peripheral interfaces we've been using with Macs for many years to connect printers, scanners, external hard drives, and to plug in our iPods, iPads, and iPhones. Technology marches on and we continue to see new interface types that promise faster connection speeds. Today we have eSATA, Thunderbolt, and USB 3 that we can use with our Macs.
Thunderbolt is the brand new interface Apple has included in all of its latest Macintosh computers. I have a Thunderbolt port on this new MacBook Air I am typing this review on, but there are no drives that will work with it, yet. For those of us who have a Mac Pro, we can install PCI cards that allow us to use the other peripheral interfaces such as eSATA and USB 3.
USB 3 is supposed to be faster (at least that is what the charts say) than firewire, eSATA, or USB 2, but much slower than Thunderbolt.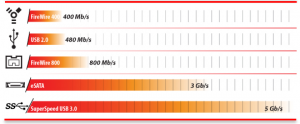 Add Thunderbolt to the mix and USB 3 is considerably  slower.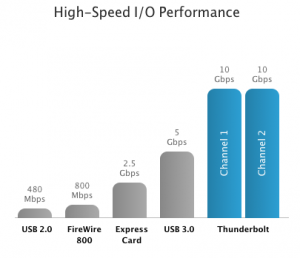 In order to use USB 3 with my Mac Pro the first thing I need to do is install a USB 3 PCI card in my Mac.
The good folks at CALDIGIT sent me their CalDigit SuperSpeed USB 3.0 Card which I installed in my Mac Pro. Installation was painless and easy. However, I did have to install the provided (on CD) driver for the Mac OS. Personally, I hate installing drivers. If the company that supplied the driver is not keeping up with Apple's OS updates you can suddenly end up with a crashing Mac. Fortunately, quality companies like CalDigit keep up with Apple's OS updates and I noted that Lion drivers were available from their website.
Some notes about the card:
Includes two high speed USB 3.0 ports
Backward compatible with USB 2.0
Supports super-speed data transfers up to 5Gbps
Comes with a high quality USB 3.0 cable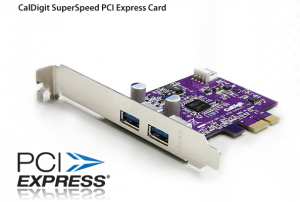 The next thing I needed was a USB 3 drive. Datawatch Technologies sent me the Data Tale Mobile 2.5" HDD Enclosure.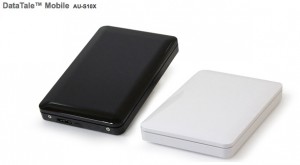 The Data Tale Mobile device is a simple enclosure made out of hard white plastic (comes in black too). Datawatch includes a very short USB 3 to USB 2 cable, and a fabric carry case. A small blue light inside the enclosure flashes when the drive is writing or reading data. Installing a 2.5″ hard drive in the enclosure was very easy. Simply plug your drive into the connector inside the enclosure and close it up. Fast and easy.
This is a small enclosure measuring 133 x 76 x 16 mm and weighing a mere 86g.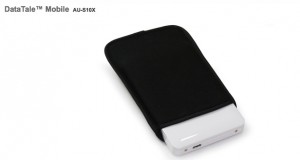 Test methodology:
I inserted a Toshiba 2.5" 5400 RPM 120 GB drive into the Datatale enclosure and tested the throughput by copying various files using USB 3. Then I installed the Toshiba drive into an OWC Mercury On-The-Go Pro USB 2 enclosure and copied the same files and recorded the copy time.
Here are my results:
Copy a 2.6 GB folder of mixed data files:
USB 3 – 86 seconds
USB 2 – 92 seconds
USB 3 was 7% faster. Not as impressive as I was expecting.
Copy a 2.42 GB mixed audio folder:
USB 3 – 70 seconds
USB 2 – 77 seconds
USB 3 was 10% faster. Once again, I was not very impressed.
Copy a 7.34 GB video folder:
USB 3 – 213 seconds
USB 2 – 229 seconds
 USB 3 was 7% faster. I'm not excited.
I would be the first to admit that this isn't a very scientific assessment of the capabilities of USB 3, however, I feel this is exactly what you and I use these peripheral interfaces for every day. I also realize that there are other factors that affect test results. Perhaps I was wrong to expect a large difference in the copy speeds but when you look at the graphs I included above what would you expect?
I want to note that the Caldigit PCI card and the Datawatch enclosure were both easy to install and use and I appreciate both companies providing them for this evaluation. They are both high quality products that everyone would be happy to own. USB 3 is becoming a mainstream interface on PCs and if you are a cross platform owner then these two products will provide great value.
Final word:
The results I got did not impress me. I am sure others will say a 7% or a 10% increase is nothing to sneeze at, but when you use a stop watch and translate those percentages into raw time, seven seconds faster doesn't help much in the real world.
CalDigit SuperSpeed USB 3.0 Card
MyMac Review Rating – 9 out 10
Data Tale Mobile" 2.5" HDD Enclosure
MyMac Review Rating – 7 out of 10