The Mac OS X 10.7 Lion PocketGuide
Author: Jeff Carlson
Publisher: Peachpit Press
ISBN-13: 978-0-321-77661-7, 240 pages
Price: Paperback US$11.99, Book + eBook Bundle US$16.19, eBook only US$9.59
If you're after a quick pocket guide book that offers more detail than other competing books, I suggest you pick up The Mac OS X 10.7 Lion PocketGuide book.
The author, Jeff Carlson, takes readers through Lion in a way that anyone at any level can adapt to. Within the easy to follow guides in each chapter, readers will find a treasure trove of addition hints and tips to help you perfect your user experience.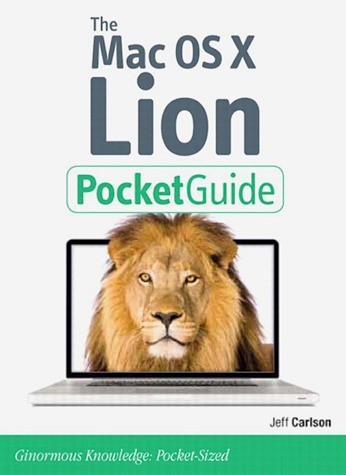 When reviewing these books I tend to look for what has been omitted. In this case every aspect of the new Mac OS X Lion operating system was looked at, in as fine detail as a pocket guide format will allow. Networking, backup, and security are areas that are often overlooked in similar books. In this case the information provided is extremely detailed.
The introduction gives the reader a overview of information relating to new features found in the OS X Lion operating system. You are also given detailed information as to what type of Mac will be able to run the operating system.
Chapter 1 introduces the reader to Mac OS X Lion. The Finder is specifically discussed in this chapter.
Chapter 2 looks at what users need to do before upgrading to Lion. Areas such as building an emergency Lion installation disc, ways to migrate your information, and user account details are explored. Bootcamp installation is also explained in this chapter. The aim is to assist users who wish to run the Windows operating system alongside Lion on their Mac.
Chapter 3 deals with Apps, the Dock, and Mission Control. You will be shown the many ways to launch apps, including Apple's new Launchpad application. Dock usability and customisation options are explored as are the different ways to switch between applications. Mission Control, Spaces, and Dashboard are discussed in relation to the new features and user control they present, and the Mac App Store is discussed with specific information on purchasing and installation of apps.
Chapter 4 has readers looking at how to manage their files. The Home folder is explored as are moving, copying, and deleting files. More Finder information is looked at in this chapter, and Spotlight searching is also detailed.
Chapter 5 helps the user understand the Mac's way of dealing with important information such as Address Book entries, iCal, and options to synchronise data across devices and Macs. Adding a printer is also explored in detail.
Chapter 6 takes a look at how to connect to the Internet. iChat and FaceTime video conferencing options are fully explained, including their setup. Mail is explored in detail as is navigating to websites via Safari.
Chapter 7 is the recreational chapter. Readers will be presented with options for managing their music, photographs, and digital video collections.
Chapter 8 details how to connect additional storage drives to your Mac. Burning a CD or DVD is also explained. Connecting to a home or office network and using the new Airdrop file sharing feature in OS X Lion are presented in detail.
Chapter 9 deals with one of the most important issues every computer user needs to be aware of. Back Up! The author takes readers through his own backup procedure along with how to use Time Machine. Third party applications are also introduced and discussed with relation to making duplicates, bootable backups, and offsite backups. Restoring your information from these various processes is also taken into account.
Chapter 10 helps keep you secure, and shares the same level of importance as the previous chapter. Passwords, FileVault, and Firewall options are all explored in detail. Advise on network safety when using public Wi-Fi and traversing the Internet is a welcome addition.
Chapter 11 will help you troubleshoot common problems. Topics include: hard drive related issues, application crashes, and what to do if you can't connect to the Internet.
This book may only be a PocketGuide but don't let this deter you. It is jam packed with detail. Every line and every word has been meticulously chosen to deliver as much impact as possible. The author has made sure every moment of this book is informative.
I recommend The Mac OS X 10.7 Lion PocketGuide for any Mac user. There is something here for everyone, and it is wonderful to see that specific hints and tips are given pride of place.
I had no disappointments with this book. It outperformed its genre and capacity as a PocketGuide and as such I am awarding this book a rare MyMac review rating of 10 out 10.