Callet
Price: $19.95
The Callet (pronounced Call-it) is a phone case and wallet in one that is customized to fit select Blackberry Curve, Blackberry Tour, and iPhone 3/3S/4 smart phones. The case has two slit-pockets in the back that can hold cash and cards. The color options are pink, white, blue, black, or white.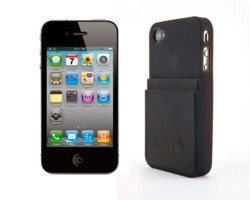 The Callet phone case advertisement claims the product is "Your Whole Life in Just One Hand." Imagine my surprise when I received a pink plastic jelly iPhone case with two slit-pockets in the back to hold cards or cash. Even when you consider the smart phone that the case is protecting, that's not exactly what I'd consider to be my whole life.
I did find a number of occasions when the Callet came in handy, such as the quick trip out of the office to get lunch, and walking my dogs. These are the times when cell phone, cash, credit card, or driver's license are truly all I need. Even so, I think $19.95 is a bit pricey for a rubber case. I'd be more excited about the product if it was $9.99.
The Callet is simply a nice to have product, not a must have. In addition, the phone case can only comfortably hold two cards and a couple of bills. If you need to carry more than a credit card and driver's license then you will need your wallet.
MyMac Review Rating is 6 out of 10.
If you have occasions where you must travel light without a wallet, then the Callet is a product to consider.