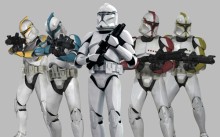 Should Apple REALLY think different and stop making Apple-branded Macs? How does a Lenovo Mac sound to you? However before you brand me a lunatic (and quite frankly I couldn't blame), hear me out.
First some boring financials: 2011 Q3 results for Apple's computers
1.2 Million desktops
2.8 million laptops (both rounded up to the nearest whole number)
20 million iPhones
9.2 million iPads
Total revenue for Macs: Roughly 5.1 Billion dollars which is about 18% of Apple's overall revenue of 28.6 billion for the quarter. Macs made up about 1/5 of total revenue for the company. The big difference between the first two quarters and 2011 Q3 is the HUGE increase in iPad and iPhone revenues. All numbers represent comparative Q3 sales between 2010 and 2011. The iPod also generated healthy profits in hardware sales but has been in a steady decline for some time now and those numbers should not be considered.
Mac revenue: 2010 = 4.4 billion/ 2011 = 5.1 billion – Revenue Difference = +16%
iPad revenue: 2010 = 2.2 billion/ 2011 = 6 billion – Revenue Difference = +179%
iPhone revenue: 2010 = 5.3 billion/ 2011 = 13.3 billion – Revenue difference = +150%
This is total revenue for each segment which does not show what the actual profit was which is really the numbers to talk about. There's all kinds of numbers I've found to show this, but for the sake of keeping this argument simple, let's say it's roughly 30%. Also this does not take into account peripheral, software, or iTunes content sales for any of the platforms, just hardware sales.
Mac estimated profits = 1.53 billion
iPad estimated profits = 1.8 billion
iPhone estimated profits = 4 billion
Macs sales account for a little more than 25% of Apple's overall profits while the lion's (heh, Lion) share is being generated by iOS devices. Yes Macs are still a significant revenue stream for Apple but it's becoming less important (as far as hardware sales go) not from year to year, but from quarter to quarter. 10 years ago, Mac sales made up almost all of Apple's revenue and profits. Now it's barely a quarter or less of that. At what point does Macintosh become more of a drag (in which research and development for future Macs and their enclosures) on the company than it's worth? Maybe it's time for Apple to REALLY think different and stop making Macs.
With the switch to Intel processors, Apple's Macintosh computers are more like their PC counterparts than ever before. Get down to the guts of it and there's not much of a difference between them as there used to be. So go the next step and let the Dells and Lenovos and so forth make Macs. Design specific motherboards for each segment. Low, middle, and high end for laptops and desktops with each manufacturer having to submit their designs for Apple to approve. These would include some kind of chip that would be needed to install OS X to prevent every one and their brother from making Macs. The guts stay the same for each maker making servicing less of an issue. Still allow people to bring in their Macs (regardless of who makes it) into Apple Stores for service and repairs. The difference would be that instead of going to an Apple service center, they would go to service center (for US-based Macs, one in the US. Have one in each region for other areas) for each maker to repair. This would require PC makers interested in making Macs to have a significant investment of their own money before being allowed to make and sell OS X-based computers. Apple makes their money from licensing not just the OS, but the motherboard and so on as designed by Apple. Apple's profit per machine most likely would not be as high as when an Apple-branded Mac was sold, but more Macs would be sold overall (most likely, the future of course is never certain) with most of the design and manufacturing headaches being assumed by other PC makers. Quality would remain high since Apple would have to approve of each new PC design.
The tradeoff? They wouldn't be as pretty.