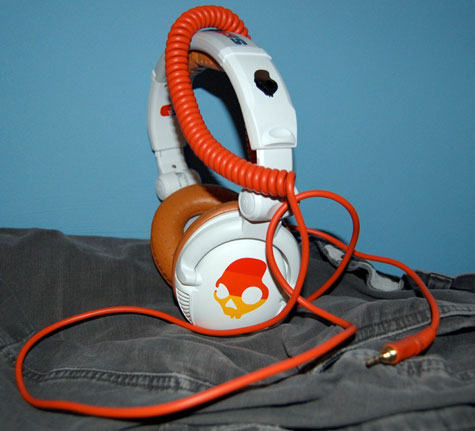 SK Pro Throwback DJ
Skullcandy
$113.00
Probably the last thing anybody wants to know about a set of quality over-the-ear headphones is the color of the cord. But in the case of Skullcandy's SK Pro Throwback DJ headphones, I guarantee the long mandarin orange cord snaking off the white ear cup will catch your eye long before you start poking around looking for ohms and impedance data.
Skullcandy earphones — I don't care if they're earbuds or the comfy earmuff style — are as much about fashion and whimsical design as they are about quality sound. When you're cruising along on your inline skates with an iPod strapped to your bicep, a candy orange cord dangling across your chest and your ears encased in white plastic lined with soft tan leather, you are nothing if not the height of cool.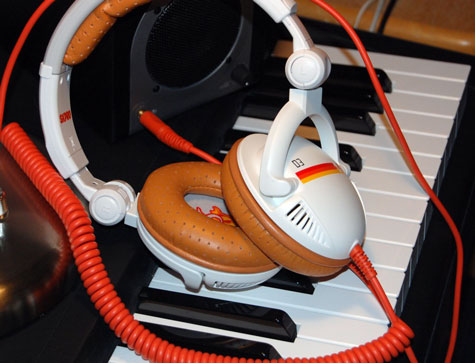 But if that's all these headphones had to offer, they wouldn't be worth the $113.00 selling price. Fortunately these cans produce wonderfully resonant, well-balanced sound. I could detect no harshness or distortion no matter how low or high the volume. Audiophiles can and undoubtedly will spend far more than this for studio quality headphones, but I found that on a price to value scale, these DJ headphones were more than acceptable.
Getting beyond the orange cord and the red and yellow skulls emblazoned on the cups, here's the rest of the story: The speaker diameter is 50mm, and the max input power is 100mW. The soft leather lined cups seal in most of the sound and direct it to your ears, delightfully cancelling out most of the noise around you.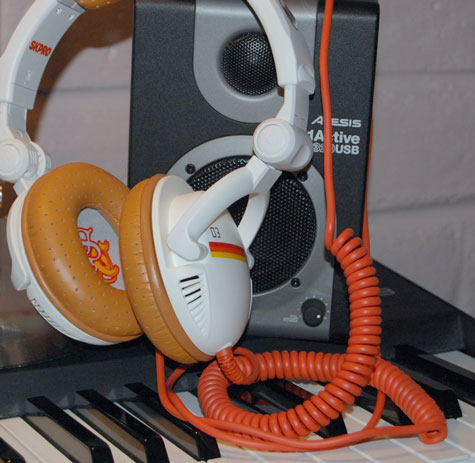 More details can be found here.
MyMac Review Rating: 9 out of 10