iPad Extreme Sleeve
Company: G-Form LLC
Price: $59.95 USD
http://shop.g-form.com/products/ipad-extreme-sleeve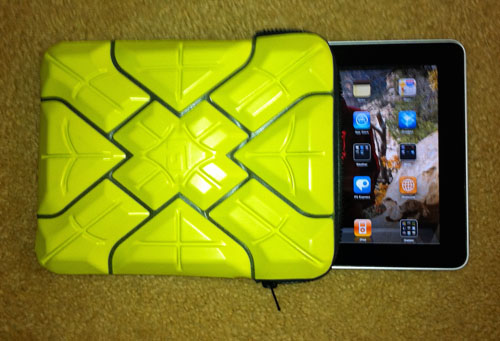 There are all types of different cases for the iPad; soft cases, hard cases, cases made from neoprene, leather, faux leather, plastic… the list goes on. They allow you to carry your iPad around and for the most part, protect your iPad from accidental harm. Now what would you think of a soft, flexible case that upon impact, becomes hard and protects your iPad?
Designed and manufactured by G-Form, a company that has been producing knee pads, shin pads, elbow pads and bike related items designed to be flexible enough for use in these types of activities yet be able to absorb the impact, protecting the user. In a re-imagining of what could be done, the company set out to come out with new products and produced the Extreme Sleeve for the extremely popular iPad. The Extreme Sleeve is produced using RPT-Reactive Protection Technology, a combination of PORON® XRD™ material and proprietary G-Form design and manufacturing experience. The Extreme Sleeve is water-resistant, soft, flexible, lightweight and changes its molecular structure upon impact. G-Form has filmed the Extreme Sleeve containing an iPad being dropped 500 feet from an ultra-light aircraft and having a 12 pound bowling ball dropped on an Extreme Sleeve containing an iPad. Check out some of their videos on the G-Form website.
Having said all of that, what it boils down to is "Does the Extreme Sleeve do what G-Form says it does?" Well, so far my experience with this sleeve has been yes, it does. I have used the Sleeve daily to and from work, carrying it inside my soft briefcase. I carry the Sleeve to and from meetings, so I can pop out my iPad when I need to take notes. When flying, my iPad is inside the Extreme Sleeve as it goes through the airport checkpoint. While the case may not win design awards for the best looking case, this case should win awards for what it does do; protect your iPad from accidental impact. No, I did not take my Extreme Sleeve with my iPad inside and throw it off of the roof of my house to test it nor did I run my car over it. Just everyday use and having a near cat-astrophe occur, I can tell you that the sleeve does work. And no, I didn't misspell cat-astrophe. What happened was that I had placed the Extreme Sleeve with my iPad in it on the kitchen table and for whatever reason, the family cat who likes to run around the house like a possessed wild animal at times, jumped from one counter to the table on one of his running binges, landing on the Sleeve that was sitting on top of some mail and proceeded to slide with the Sleeve and the mail off of the edge of the table. Thankfully the Sleeve did exactly what it was designed to do, protect the iPad from sudden impact.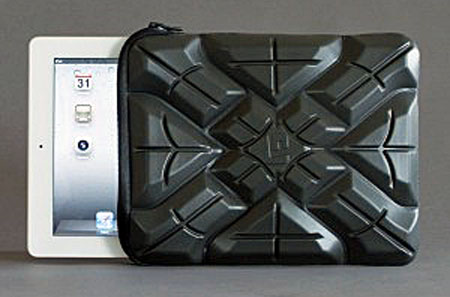 The one main thing that has really impressed me about G-Form LLC is that after coming out with the Extreme Sleeve, they listened to customer feedback concerning the case and produced a newer version that added more impact resistant material around the zipper area, plus they also produced an Extreme Sleeve 2 for the iPad 2, allowing for the iPad and the Apple Smart cover to fit inside the Sleeve without having to force it in. I was also advised by the company that early adopters of the Sleeve can trade in the original Extreme Sleeve for the new version with improved protection at no cost. G-Form does provide a lifetime limited warranty on the Extreme Sleeve itself.
Coming in two colors, Black and Yellow, the case is distinctive in appearance and immediately people begin to ask questions about it. When you pull an iPad out of the Sleeve, and you begin to answer questions, the other question pops up… "I'm a klutz. Do they make cases for the iPhone, laptop, etc.?" If you go to their website, while they might not be making cases for the iPhone or other smart phones, they have begun to produce Sleeves for 11, 13 and 15 inch laptops.
I would really recommend this case for those of you out there who may have a bit of the klutz somewhere within you or who just want to be better prepared for any eventuality. At $60, it's money well spent.
All in all, I give the Extreme Sleeve for iPad a My Mac rating of 9 out of a possible 10.