FileMaker Go
Company: FileMaker
$39.99 for iPad
Version 1.2.1
$19.99 for iPhone and iPod touch
Version 1.2.1
Both apps require iOS 4.2 or later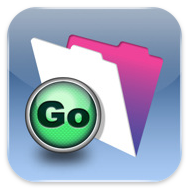 If you use a database for your job, chances are it's a FileMaker database. And, chances are, you access the information from your desk. Wouldn't it be nice to have the pertinent databases with you when you're conducting business outside the office? FileMaker thought so too, and created FileMaker Go.
I recently spoke with Ryan Rosenberg, Vice President of Marketing and Services for FileMaker about FileMaker Go (FMG). "Our focus is to make databases accessible," he said. "FMG is the number one database in the business section of iOS." Rosenberg continues, "Build your database on FileMaker Pro, run it on FMG."
But what if you are not involved with creating or adding to a database; your interaction with a database is to look up what you need and get out?
That's my experience. Which is why I'm testing FMG on my iPad, to see if FileMaker's claims of simplicity and "no database experience necessary" are true. FileMaker was kind enough to send me a sample database to use.
As you can see by the photos below, FMG can be used in landscape or portrait mode. Like other iOS apps, FMG uses a touch interface, including pinch, tap, and swipe.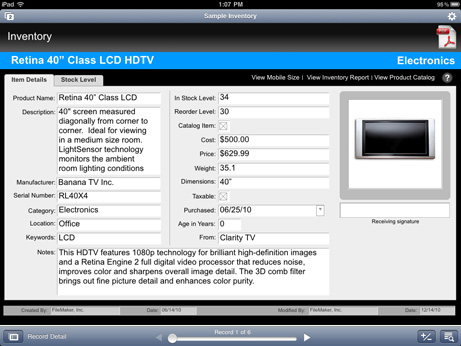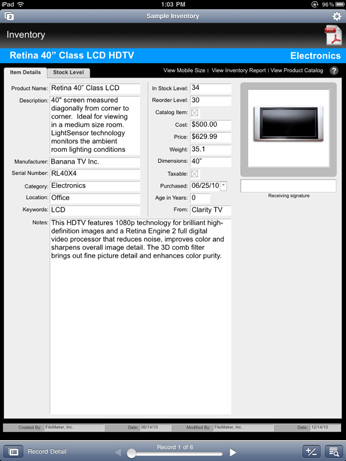 Getting a database onto the iPad can be done in three ways:
1. email the database to yourself and open the email on your iPad.
2. copy via File Sharing in iTunes.
3. connect to databases hosted on FileMaker Server or FileMaker Pro via a local wireless
network or over the Internet using WiFi or 3G.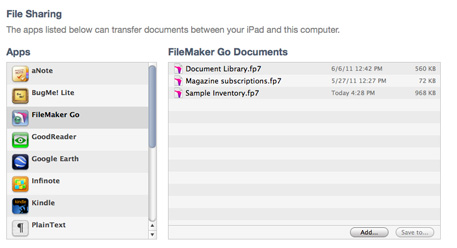 Any or all databases needed for sharing must first be turned on within FileMaker Pro. When FMG is opened on the iPad, the available databases are easily added.
File sharing over my home network was amazing. Additions, modifications, or deletions made on FileMaker Pro were changed immediately on FMG if that same file was open. Immediately, as in, the second I tapped outside the record it was altered on the iPad. The same was true for changes made on FMG: instantaneously changed on FileMaker Pro. This is for all layouts for the database, including charts, which I'll discuss a little later. Note that for data changes to take place immediately, FMG must be connected to a FileMake Pro or FileMaker Server database. If not, updates will take place through File Sharing once the iPad is connected to iTunes on your computer.
If you need to open more than one database on FMG, go ahead. Click the button in the upper left corner to change from one file to another, similar to Safari.
The gear wheel in the upper right corner is very useful. This is where you'll be able to print a record or entire database if you have AirPrint installed and a compatible printer. The Print setting also has the option to view, email, or save the record or database as a PDF. I strongly recommend that any database that will be used on FMG also be created in mobile size. Regular sized records can be viewed easily on the iPad, but get chopped off when emailed or viewed as a PDF within FMG. Using the mobile size database to email or save as PDF ensures your recipient gets all the information within each record.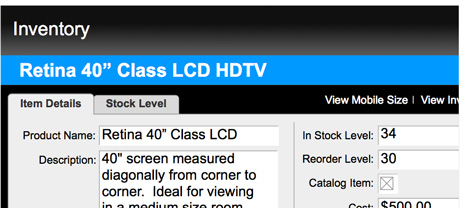 The Help file, found by clicking on the question mark on the main screen, or clicking on the gear wheel within a database, is an excellent resource for answers to specific questions about FMG. Responses are listed step by step, with additional notes at the bottom of the screen where applicable.
Just as with FileMaker Pro, records are sortable on FMG. Tap the top of a column to sort by that column. To sort by multiple fields, click on the sort button in the lower right corner of the screen and click Sort Records.
I hear you out in cyberland. You're saying, "Elisa, all that sounds nice, but why would I need to have a copy of a database on my iPad? How would I use FMG in the field?" Glad you asked. Here are a few scenarios:
• You're a fashion buyer for a boutique. You need to know current inventory when going on a buying trip.
• You're a real estate agent at an open house. All the properties available for sale, not just the open house, are at your fingertips for potential buyers.
• You're an appliance repair person. A database can hold repair manuals, parts inventory, and billing information.
• You have an extensive comic book collection (or any type of collection). If your collection is on your iPad, iPhone, or iPod touch you always know what you have and what you need to add to your collection. Especially handy at a show or when you come upon a great deal.
Let's talk about some of the new features with this latest version of FMG. I already mentioned printing using AirPrint.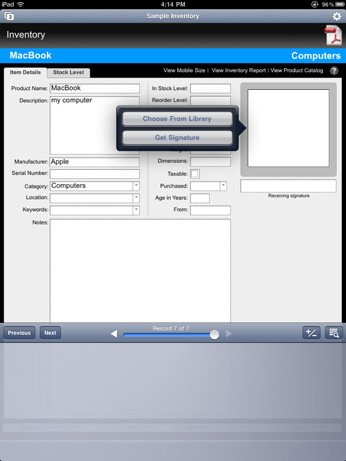 Another is adding a photo from your library to a field and/or getting a signature. If using an iPad 2 the Take Photo option is also available; I'm using an original iPad.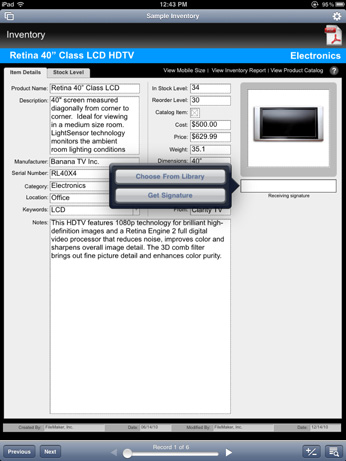 I don't have a stylus so I signed with my fingertip. Looks like some of my signatures when I sign on a credit card machine.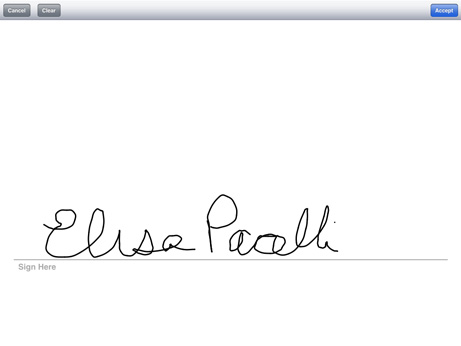 The photo or the signature can be emailed separate from the record. Makes signing a contract or accepting an order super simple.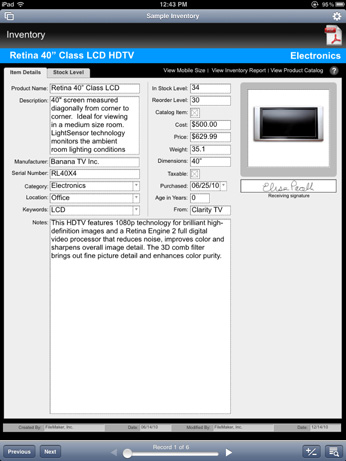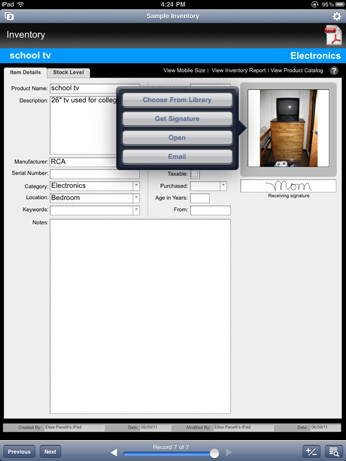 Charts and graphs are a much-welcome new feature on FMG. They can't be created on FMG, but they will change as data is added or modified.
Once a database is created in FileMaker Pro then synced to FileMaker Go, it's incredibly simple to maintain and use. Sort, search, add, delete, modify, and display data just as you would with FileMaker Pro. If you are a regular user of FileMaker Pro, then FileMaker Go should be your next purchase. You won't regret it.
MyMac.com Review Rating: 9 out of 10