Zona Wireless Speaker System
Aperion Audio
$499.00 per set of two, including transmitter, with free shipping and 30-day audition
Aperion Audio's Zona Wireless Surround Speaker System is the best wireless speaker setup we have had the pleasure to use. Zona delivers top quality audio reproduction with every source device from iOS to computer, from stereo system to home theatre.
Two powered bookshelf speakers and one transmitter make up the basic Zona package. Additional speakers can be added using the same transmitter. Clear audio is delivered at a range of over 100 feet.
Individual speakers are solidly constructed with an attractive all black industrial design using a molded polycarbonate shell and a snug fabric front section. Each speaker is smaller than a shoe box, yet delivers a full, rich reproduction of music and voice. All the necessary cables and connectors are provided for running Zona speakers from different equipment.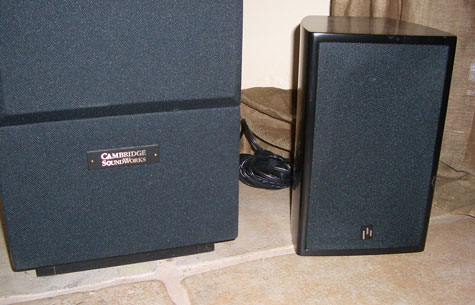 One RIGHT speaker responds to the included tiny black remote control for power on/off, audio mute, volume, and individual treble and bass settings. There are 50 increments of volume from very soft to VERY LOUD, and 10 increments each of treble and bass. Sonic response is clear at low volume levels, and is without distortion at high volume levels.
Don't lose the remote control unit! Without it you are unable to alter the settings on Zona speakers, although your source device's volume and equalizer settings will take effect.
Numerous additional LEFT speakers can instantly pick up the settings applied to a master RIGHT speaker. Place your speaker(s) at optimum locations for complete surround sound everywhere and anywhere. Each Zona speaker is heavier than it looks, which indicates quality materials.
Surround sound is a subjective experience. Zona's surround is not particularly evident, but that implies no criticism to the overall excellence of spatial audio output. Being front-firing drivers, the sensation is more room-filling than true surround.
Five hundred dollars is a lot of money, and in this case the price is justified by Aperion's mastery of technology and engineering. Computer and portable player speakers rarely are worth such a price tag. The company's primary focus is on home theatre environments where users want to avoid long and annoying cables, and where thousands of dollars easily can be spent. The only cables in sight are the splendidly long AC power cables running from each Zona speaker to a wall power source, plus a source connection cable to the proprietary wireless transmitter unit, which is the size of a small, black bagel.
Zona Speakers from Aperion Audio are the first speakers ever to pass Nemo's ultra-stringent SWEEP test. SWEEP stands for Suspicious Wife Enjoying Evaluation Product. My long-suffering spouse insists these Zona speakers are the solution to her ongoing quest for portable, wireless, top quality, easy to use and attractive playback of her iPod touch's Pandora and MOG Internet radio stations whether she is in the house or outside in the garden or pool.
"Tell the people at the company these little black speakers are fabulous, John," she says. Such praise rarely leaves her lips. Her only wish list request is for all-weather rechargeable battery powered speakers that could live on the patio, a little smaller and lighter than Zona, with a larger, illuminated remote control.
One RIGHT Zona speaker resides permanently on the floor between Barbara's small laptop workstation and her printer table in her corner office area of our breakfast room. She keeps the tiny black remote control next to her iPod touch.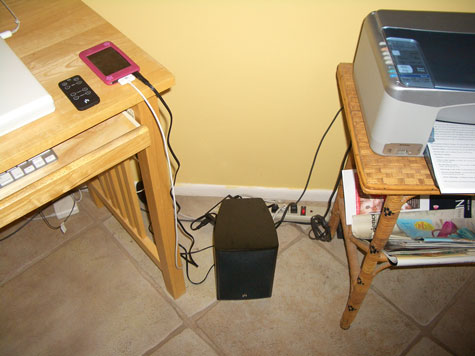 Our evaluation LEFT speaker is typically placed on the floor of our dining room facing a sliding patio door, so the sound can be heard either/both inside and out, as appropriate.
At night, when we watch old episodes of The Closer and other Netflix DVD or instant play programs and concerts, the LEFT speaker gets relocated to our living room, and the transmitter is connected to our Panasonic 37 inch television.
Two techie tips: no latency, and computer output settings.
• There is no noticeable signal lag with this high performance wireless system. Sound is immediate and full spectrum as soon as the transmitter and speakers are linked. There is no radio interference from other equipment in the same spectrum.
• Macintosh computers' Sound/Output System Preference needs to be set to USB Headset when Zona's transmitter is delivering audio from a Mac's USB port, before the speakers are able to pick up the signal.
I have been using and testing wireless transmission speakers for over twenty years in all price ranges. Overpriced and disappointing are the terms that come first to mind. The search is over. Zona is here. Try them for 30 days. You will decide to keep these little speakers with a big sound and a huge range of uses.
Below is an email Q & A with Mike Hopkins, Product Development Manager for Aperion Audio in Portland, Oregon.
1. Why is there no ON/OFF power switch on individual speaker units? Why are they always plugged in and powered up?
The Zona speaker was designed with really two major use cases in mind: (1) as surround speakers in a home theatre, and (2) to play music from a computer. For the majority of our customers who use them as a surround speaker they are setting them up and calibrating once with in their audio system and then not messing with them again with either power or volume.
The small link buttons on the back of each Zona speaker will actually turn them on, but not off. They are designed to go into a standby mode when without audio signal after 15 minutes. In standby they use less than 1 watt at rest. The LED lights help indicate what mode they are in. Our USB draw is a standard 5 volt.
2. How many individual volume micro-levels are there? Ditto for treble/bass? At top volume/bass/treble will we experience distortion or danger to speakers? Is there a speaker break in period?
There are 50 levels of volume and 10 of tone adjustments in the Zona speakers. If you use the remote you will see the LED on the front of the speakers flash when either volume, bass, or treble are used. When the level is at maximum or minimum the LED will not flash any longer. Again, most customers are setting these levels once and then leaving them. Out of the box both tone and volume are set at the midway point.
The Zona speakers don't require break in, and as for distortion through volume, this mainly depends on the level of the input signal. I'll explain more in your next question.
3. Why are there no manual controls whatsoever on volume, relying exclusively on your remote? Why is this remote so small, dark, and difficult to operate in low light? What is optimum range of Zona's remote from the RIGHT controller speaker?
In thinking of our two main use cases, remote control is not used very often because:
A. Set up as surround speakers in a home theatre the speakers are calibrated once with the rest of the system and then there is no need to adjust volume again. If the customer wants more volume out of the surround this is done through the audio-visual remote control unit (AVR). In a home theater set up the Zonas will decrease and lower in volume with the rest of the system as controlled through the AVR when connected through the surround pre-outs on the receiver. Additionally, the majority of our customers in this use case are programming the IR controls into a universal remote like the Logitech Harmony for simplicity. Optimal range for the included remote is about 15 feet or so.
B. As a music system connected to a computer you are using two volume controls, one through the Zona remote that controls volume in each amplifier and the other through the volume control on the computer. The recommended usage is to set the volume level on Zona to about 3/4 and use all other control on the computer. Using the computer to control the volume is something that most people are very comfortable with and makes sense as the computer is also where the source is controlled (your iTunes or Pandora radio or system volume).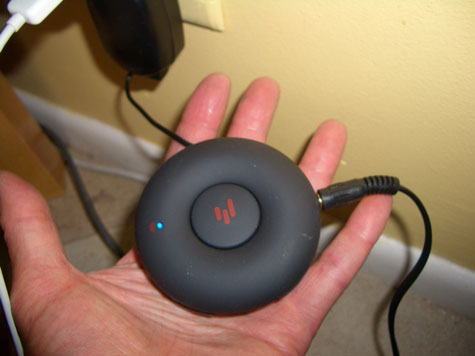 The right speaker is where the IR remote receives the signal. The reason there isn't volume on both left and right is because it would be far too easy to accidentally have uneven volume levels of each speaker. The Zona system is quite amazing in how it achieves even volume and stereo sync between the left and right speaker. When the remote is used to adjust the volume, the right speaker will actually send the command back to the transmitter that will then attenuate the stereo signal and send it back out to both the left and right speaker simultaneously. This ensures that you will always have and even level between the two speakers.
Another reason why there are no manual volume controls on the each speaker is that Zona was designed with no need to connect the Left and Right speaker together like the majority of other "wireless" systems out there. As a result volume leveling between the left and right speaker will always be even and good stereo imaging will occur. If we added volume to each speaker as well we thought this could lead to a much more confusing set up and listening experience to the customer because there would potentially be four ways to control the volume: (1) the source (computer or AVR), (2) the remote, plus (3 and 4) each individual speaker. This would also mean four ways to get the volume mixed up which can get very tricky.
4. What is the sweet spot distance from adjacent walls/corners?
Results will vary on this use case per customers' sound preference, however if you pull them out at least a foot or so from the rear wall you will have a more natural sound.  Too close to the walls or corners will increase the bass output but will tend to make it sound a bit boomy. If you must place them close to a wall or corner and the bass is too prominent, a few presses down on the bass control will help calibrate. Keep in mind that through your AVR or computer you have much more sophisticated sound EQ and can calibrate the signal as it's wirelessly sent to the Zona speakers for optimal sound.
Your questions are all well thought out, Nemo, and ones that were considered when we designed Zona. We felt like making these speakers as easy to use out of the box with great sound through minimal set up was most important for our customers, and hopefully we succeeded!
Specifications include: 55 Hz to 20kHz frequency response, 2 x 20 watt Class D amplifier with DSP, 1″ Soft-Dome Silk Tweeter, 4.5″ woven fiberglass woofer, 2-way driver, plus 15 pounds package weight for two speakers and transmitter. Each speaker is 9.8″ high x 6″ wide x 6.3″ deep. The company mentions the following feature set:
• 2-way powered speakers with built-in wireless receiver
• Uncompressed 16 bit/48 kHz audio quality
• Wireless range up to 150 feet
• Plug and Play auto connection
• 2.4 GHz wireless band
• USB 2.0 Plug and Play Interface
• Remote Control
• Threaded Inserts for Wall or Stand Mounting
MyMac Review Rating: 9 out of 10, with strong recommendation