In this third part of our ongoing series on MOG subscription Internet radio, the Web interface and experience are featured.
MOG's  home page provides immediate access for searching, browsing, or choosing a playlist. The initial time you encounter this home page, you won't know where to click first. Choices appear to be overwhelming, and slightly out of focus.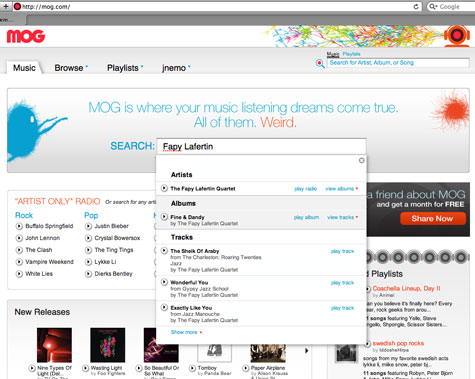 Subsequent visits clarify the MOG Web experience, which is wide, deep, and rich beyond expectations. The company's two week free trial period will be sufficient for newbies to become familiar with how personal or generic, and always satisfying, is this service. The monthly subscription fee is a bargain for even casual listening, because all tracks are available on demand.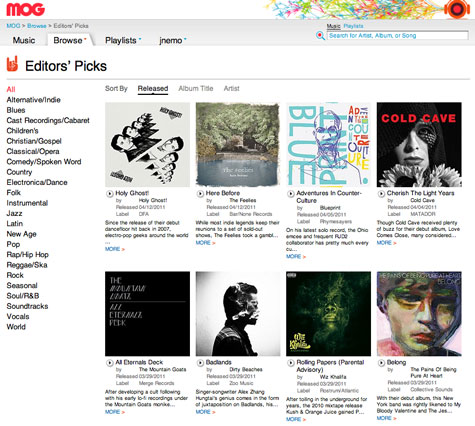 Browse the Editor's Picks, or This Week's Highlights.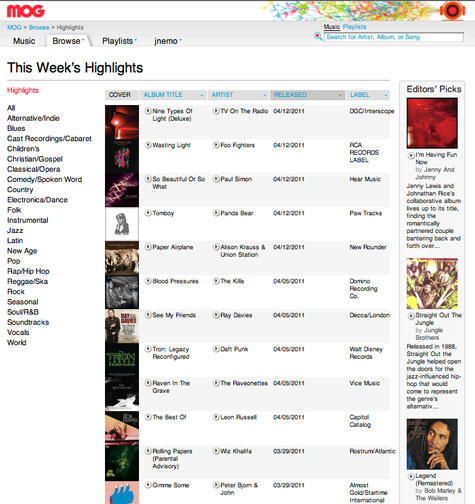 Listen to a few tracks and enjoy the high-bandwidth sound quality, with very few Internet stutters or interruptions. Getting sick of Adele's and Paul Simon's media juggernauts? Try some Alison Krauss and Leon Russell to clear your musical palette.
The full power and glory of MOG reveals itself slowly, as you explore and embrace Playlists. Wow. They can be spectacular or annoying, but they are always ear-opening and refreshing. Did you know Thom Yorke has an Official Playlist? Or that 152 tracks comprise the Coachella 2011 Playlist. Again, the depth is jaw-dropping.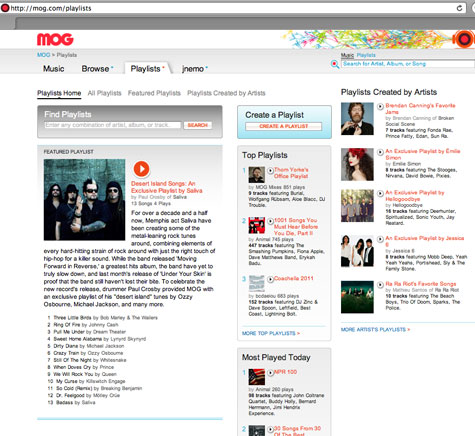 Playlists can be sorted by different criteria that you will learn to use, or ignore, to your own tastes.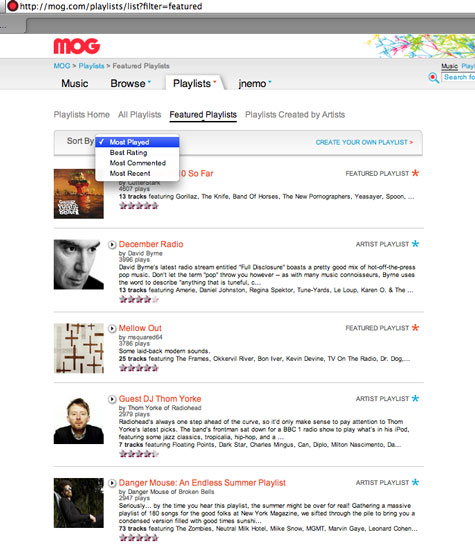 On a song-per-dollar basis, MOG is a screaming deal. You will never become bored with its range of selections in all genres. I read in New Yorker magazine a rave for Volume 22 of John Eliot Gardiner's complete cycle of J. S. Bach Cantatas, and less than a minute later I was listening to it, with glowing adoration.
Ditto for oodles of recommendations in print, on the radio, by word of mouth, and from every other source I've been using for I chose to listen to on MOG during the last nine months. Double ditto for the great stories and blogs about artists and their music I have read.
Jazz? Got it! Country? Got it! You name it? MOG has it! Ten million tracks, and counting.
Enough words. Time to get back to listening to my survey of Charlie Christian's fabulous jazz guitar, and read about his album Vertical, which is "a soaring ode to New York City and its intrepid landscape," according to Raul d'Gama Rose, one of the MOGGERS (MOG bloggers).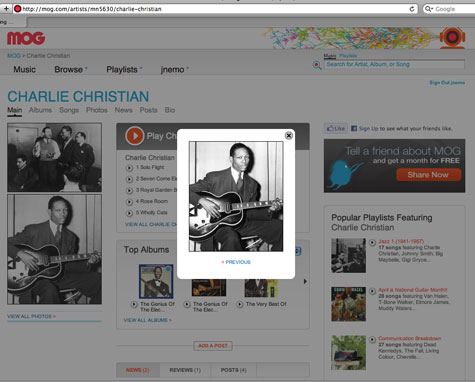 Here are links to the prior first and second MyMac articles on MOG.
Tune in!