Day Two
Infinote Free
iTunes link
Developers web site
Version 1.6.5
Free
Works with iPad. Requires iOS 3.2 or later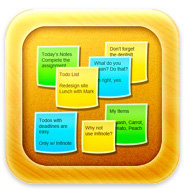 All of us have used sticky notes at one time or another. They're simple to use, and come in some great colors. If you'd like a note app that has the familiarity of sticky notes, take a look at Infinote Free.
Like many other note apps, Infinote Free notes can be customized with backgrounds, color, font, and text size. You can add todos, deadlines, and alarms to notes, plus a handy checkbox to signify when a task has been completed.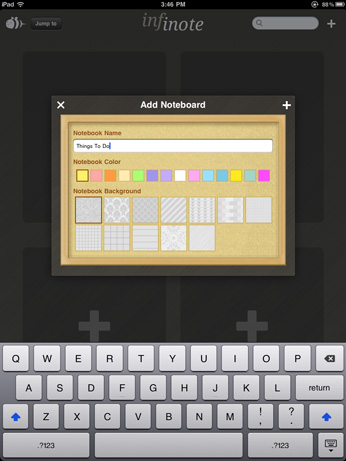 The noteboard looks like a real bulletin board you'd have at home or the office, covered in a plethora of multi-colored sticky notes. Notes can be arranged in a neat grid, or resized, flipped, turned, and rotated to your liking.
Individual notes can be emailed, though on one of my email accounts the formatting was gone. Entire noteboards can be exported as a JPG, PNG, or PDF. I did run into problems emailing a noteboard as a PDF. For some reason, the file was not recognized by my Mac when a note was sent to two of my email accounts. The fix was simple: even though the file ended with .pdf, I renamed the suffix .pdf, and it seemed to do the trick. Strange little bug. Syncing the note through iTunes, on the other hand, worked perfectly. The .pdf file opened without issue.
As with other free note apps there are limitations. Infinote Free is restricted to one noteboard and a limited number of notes. The paid version, which as of this article's publication is on sale for $1.99, gives unlimited noteboards and notes. Both the free and paid versions of Infinote are iPad only; if you need a note on your iPhone you'll have to email it to yourself, or print it if you have AirPrint.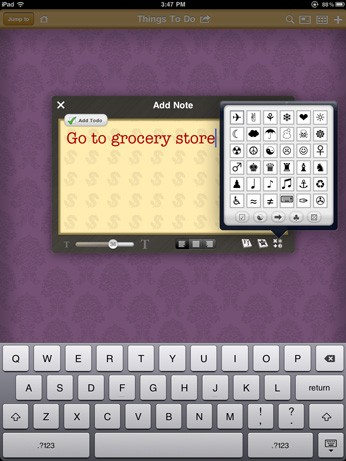 Infinite Free has a concise and efficient help guide within the app that will get you up and running within minutes of downloading the app. There's a lot more to Infinote Free than what the help explains; simply clicking on all the buttons will show all the extras bundled in this app.
For a free app, Infinote Free offers just about everything you would need to keep your life organized. It's fun, easy-to-learn, flexible, and best of all, free.
MyMac.com review rating: 9 out of 10
Day 1: RainbowNote Lite