IntelliScanner SOHO
Company: Apparent
Cost: $299 US
Requires: Mac OS 10.5 or later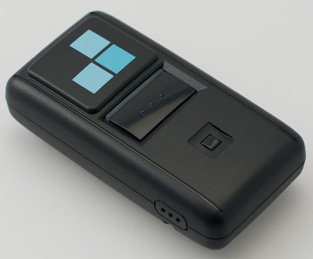 In order for a business to run efficiently it needs to keep track of its supplies, assets, and inventory. The IntelliScanner SOHO was created for that very reason.
The IntelliScanner SOHO is advertised on the Apparent web site as: "the smart, ultra-portable barcode scanner built for small business," but it would also work well in the home office or home management arena. Updating inventory and organizing a workplace is not an exciting job; IntelliScanner SOHO helps make it a little easier and a lot of fun.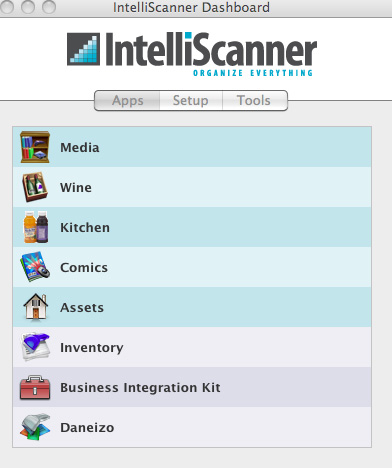 To keep things simple, the IntelliScanner SOHO comes pre-loaded with Inventory 2.0 for asset and inventory tracking, and Media 3.0 software to organize all kinds of media. Also included is a Business Integration Kit, which has guides and examples of how to use IntelliScanner SOHO with third-party applications like Bento, FileMaker, Excel, and a few other business applications. No drivers are on the IntelliScanner SOHO; instead, they're downloaded from the Apparent web site the first time the scanner is connected to your Mac. This keeps the software on the scanner current.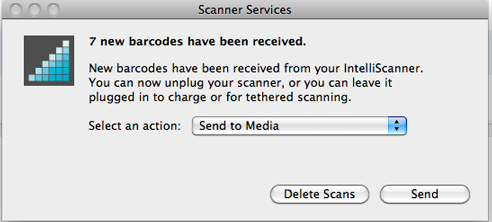 Scanning is a breeze. Simply point the scanner at the barcode of an item, then press the big black button in the center. A beep lets you know the barcode was read. Once finished, attach the IntelliScanner SOHO to your Mac, and open the IntelliScanner Dashboard, where you'll find the applications.
I started using the IntelliScanner SOHO by scanning seven books in my collection. After opening the Media software I connected the IntelliScanner SOHO, and the barcodes instantly downloaded. The software went out to the Internet and grabbed the artwork, title, and author of each book. Clicking on a specific book brought up more details, including publisher, release date, and price.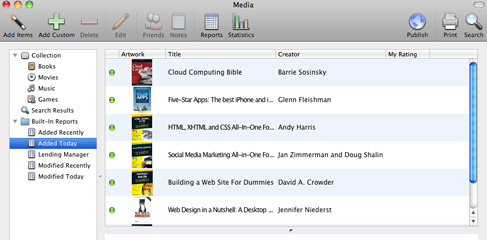 Media can act as your own personal lending library. Colored buttons next to each book designate the status of the book: available for lending, lent out, overdue, missing, or on hold. Along with status updates are iCal notifications that can generate an email reminder to the borrower to return the borrowed item.
Items can be added manually, if preferred. Fields can be customized and edited.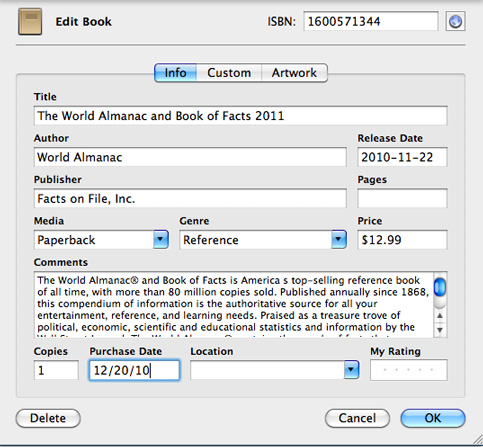 I scanned music and movies in the same session. After uploading, the software automatically separated the media into appropriate sections.
The Inventory software works differently than the Media software. Inventory has 20 built-in templates, or you can create your own database by using the Blank template and adding customized fields. Adding items directly into a template is done one item at a time; after the barcode is entered you type in the rest of the pertinent information for that item. Alternatively, numerous barcodes can be scanned, loaded into an Excel or Numbers spreadsheet, then imported into an Inventory template.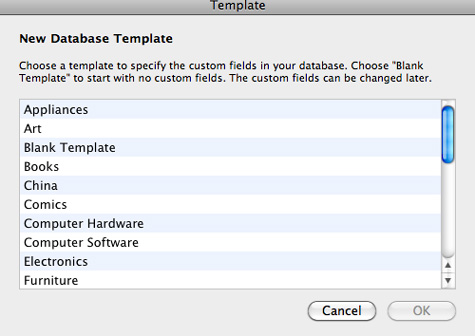 I had no problems using the Media software; Inventory was another story. Occasionally the barcodes weren't read correctly. An exported Numbers file wasn't recognized by Inventory, no matter how I saved it. Although Numbers looks nicer I had to use Excel each time to upload barcodes then send to Inventory. Exported files from Inventory opened in both Excel and Numbers without a problem.
IntelliScanner SOHO has many more features:
• in Media, users can create Smart Lists based on specific criteria, similar to iTunes and iPhoto
• collections can be shared with others with a free account on IntelliScanner.net
• pre-printed Asset Tags are available for items that have no barcode
• new to Inventory: batch modify
• create Inventory reports based on minimum quantity or quantity on hand
• up to 6,000 barcodes can be held in memory
• all major types of barcodes can be scanned: UPC, EAN, Code 30, Code 128, and more
• email reports from within the software
• additional software is available from Apparent
• a "Getting Started" video and help center answers questions before and after purchase.
The IntelliScanner SOHO is a very customizable product that can help keep a business, home, or office running smoothly. At $299 it's a little pricey, but can you put a price on an orderly, productive home or office?
MyMac.com Review rating: 7 out of 10