GoFlex for Mac
Company: Seagate
GoFlex and GoFlex Pro for Mac Ultra-portable Drive – speed, capacity, pricing:
GoFlex 5400RPM: 1TB ($190) or 1.5TB ($220)
GoFlex Pro 7200RPM: 500GB ($140) or 750GB ($170)
Formatted for TimeMachine, with Windows compatibility possible, these two new bus powered external backup and storage portable hard drives from Seagate are fine products. A generous three year warranty is provided.
Unusual non-standard FireWire800 and USB2 cable adapters connect directly into a GoFlex's rear SATA port for live plug and play swappable access. Don't lose those cable segments! Exterior silver outer shell material is pleasant to touch with a gentle and soft tactile feel. There is no carrying case or protective cover.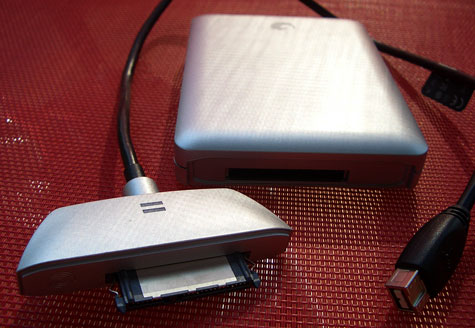 A skimpy quick start guide is included in the box. The guide mentions but does not fully explain Seagate's proprietary FreeAgent drive utility application that is of limited use. Two white LED lights glow constantly while a GoFlex is connected, without any indication of drive activity.
GoFlex units are neither the least nor the most expensive drives in their class, nor are they the fastest or slowest in their 5400RPM and 7200RPM categories. Users won't notice speed improvements on the 7200RPM models when making formatted Time Machine, Carbon Copy Cloner, SuperDuper, or Senuti backups, but they will attain speed differentials when doing straight data transfers.
For example, the initial Time Machine backups of my pre-unibody MacBook Pro 2.2GHz Intel Core 2 Duo with 4GB RAM took a little over five hours to backup 177GB using both GoFlex 5400 and GoFlex Pro 7200 drives. An equal 88 minutes was the duration of a full Senuti backup of my iPod Classic with 61GB of content to both drives. But my 11.57GB iPhoto Library took 126 percent longer to copy onto the slower GoFlex, which is almost exactly the ratio between the 7200 and 5400RPM drives.
GoFlex Pro runs a little warmer than GoFlex, although both drives maintain a cool operating temperature. The former is a little louder than the latter, but drive noise is negligible from both models.
Higher capacity GoFlex and GoFlex Pro cases are a little thicker than lower capacity units, because of the difference in quantity of interior drive platters. Construction is sleek and substantial.
I used DriveGenius 3.1 to reformat the GoFlex 1TB drive into three partitions after I had made my first series of TimeMachine and Senuti backups, without incident. I then did a FireWire 800 Carbon Copy Clone of my MacBook Pro onto one of the new volume partitions, and a USB 2 clone of my wife's white iBook onto the other partition, again without any adverse results.
Seagate has a software download utility to enable Mac-formatted GoFlex drives to run on a Windows machine. I did not test this feature.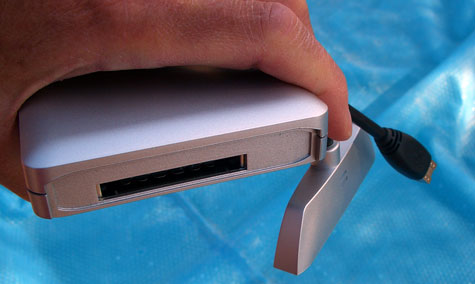 Storage and travel are my only concerns. When the cable unit is disconnected from the drive section with a simple tug, SATA ports are exposed on both segments. In a home or secure office environment this won't lead to potential physical damage, but portable drives are meant to be used anywhere and everywhere. A dedicated carrying case or tote would protect the precious SATA ports. I keep my GoFlex segments in a pair of very dry sealed Ziploc bags.
MyMac recommends the 5400 RPM GoFlex models slightly over their less-expensive 7200 RPM GoFlex Pro siblings for typical Macintoshers. At gigabyte-per-dollar, the former is a better investment. When maximum high-volume data transfer speed is paramount, a GoFlex Pro will be worth the modest price premium and lower drive capacity.
MyMac applauds Seagate for creating a Mac-friendly lineup of flexible, portable storage products. Creative think different design and engineering went into the outer case and SATA interface. The FireWire 800 plug is especially snug and secure, unlike some companies' FireWire cable tips.
I am now using a GoFlex and a GoFlex Pro as my alternating Time Machine and Senuti computer and iPod backup drives. I always have one unit in my house and the other in my office.
Seagate has a non-Mac lineup of almost identical GoFlex portable drives with lower prices. Make sure you know what you are buying. The items being reviewed here are new releases, so it will be a while before their prices are discounted competitively. Current pricing is reasonable for what Seagate delivers.
MyMac Review Ratings:
8 out of 10 for GoFlex 5400
7 out of 10 for GoFlex Pro 7200
Our Seagate representative tells MyMac: "The external durable, soft-touch, metallic finish is designed to withstand scratches, fingerprints or other marks incurred from travel. The lights glow only when the drive is in use or spinning."