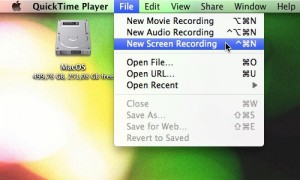 Creating screencasts with free tools was, a short while ago, almost impossible. The necessary optimizations an application needs in order to record the screen properly were either not made or bound to a specific web site. In itself nothing bad there, but tools weren't very flexible either. Using free software still is something where one needs to keep an eye open (performance-wise). The field, however, became much more diverse recently.Since we have Snow Leopard some things have changed in the market. It seems as if screen recording tools are becoming rather easy to develop and therefore are more attractive to write. The best thing: Apple gives us everything needed with the new(er) OS version. With Snow Leopard QuickTime became more polished. Lost some weight (unfortunately), but also got a couple of new features, such as screen recording. If users are not convinced by an Apple product here are some other tools with similar functions to the built-in QuickTime X:
Jing, which is tied to screencast.com. Although being a great and popular service, I can't fully recommend it. Its framerate is a tad low, which makes the screencasts look choppy.
Copernicus is another free tool. Again not fully recommendable. This time because it got its last update in 2007.
Among the free tools there are now also a lot of online solutions. Screentoaster or Screencast-O-Matic for instance. On the plus side of things, these services are free, but on the down side these videos can't be edited afterwards.
I know this looks worse than it really is. Considering these tools are free, I'm more than happy that they exist. Screencast beginners shouldn't worry about editing, because that desire arises after having done a couple of them.
QuickTime X
With QuickTime X Apple gave us a good and free starting position. Recording itself is a snap. Start QuickTime X, go to File New Screen Recording or alternatively press the keyboard shortcut ⌃⌘N, and a new icon will appear at the top right telling that the screen is being recorded. QuickTime always records the entire screen, which is problematic, especially for beginners.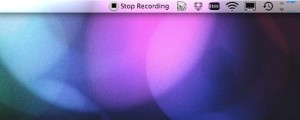 My recommendation here would be to mind the target audience. Should the screencast go on a web page? Then it might be useful to consider switching the screen's resolution to a more web-friendly format like 1024×768. HD recordings don't look very nice once crammed into a 400-pixel-wide YouTube player. As far as I can tell 1024 by 768 has the advantage of still looking pretty good once scaled down to 400 pixels, because the buttons, menus and text aren't teeny-weeny. To switch the resolution open up System Preferences and then Displays. Switch the resolution to the desired format and the display will adapt. (Secret tip: I've created a special screencasting user account that has this resolution and a much cleaner desktop and file system. How to create a new user account.) Making the screen size the same as the recording size has the big advantage that YouTube viewers will later see exactly the same you've seen while recording. There's no "window falling out of the side" of the recording.
Planning
Lastly some best-practice tips to save from annoyances:
Script: As a rule of thumb: those who plan their screencasts well will get a better result, faster. I would recommend to mentally go through the script before each recording session. This way you'll get a feeling of what time certain explanations need or when a program needs time to "do its thing" and that time could be filled with words. Lastly it will help to make fewer mistakes.
Record in segments: Beginners often make the mistake to think they need to record the whole thing at once. This often results in frustrations when an app crashes at minute 9 of a 10-minute screencast. To spare from those frustrations record in segments of 2 to 4 minute lengths. Afterwards, in the editing phase, those segments will fit nicely together using transitions and lower-third texts. Lower-thirds are the texts that are displayed at the lower-third of a screen. Such as an interviewees name, someones job title, or other additional information. A screencast structured that way has the advantage that a watching person gets guided through the screencast.
Conclusion
This was a brief introduction into the world of screencasting. Feel free to leave comments with your personal approaches and questions.