Tags v.2
Company:Â Gravityapps
Price: $29 US
I am always searching for ways to improve my workflow and organizational skills when working on the computer. Locating images, documents, or files is usually done with Spotlight but that works only if you type in the accurate word. Finding files on a deadline can be a frustrating process if scattered in various folders. Keywords or tags are becoming an increasingly useful tool to define and describe articles, blog entries, images, or files for searches. A powerful organizational application, Tags, developed by Gravityapps, may be the perfect solution to manage all your files by attaching metadata.
Tagging is a method to sort files and information based on keywords or metadata. For example, if I save a image in an application that allows keywords for descriptions, such as Adobe software, I can type in words that directly relate to that image. The words assigned that image may be the date when the image was taken, the location, and words relating to what the image is about. When searching for that particular image, all of those common descriptions help find that file. Gravityapps has a short screencast about Tags here.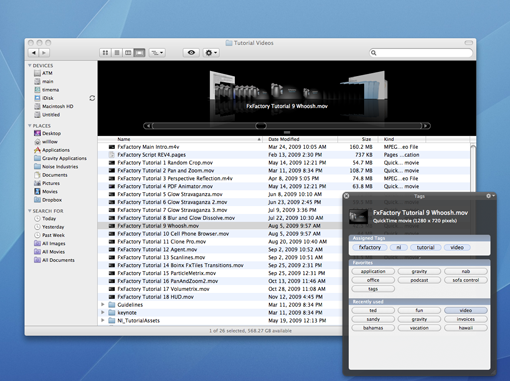 Gravityapps' Tags takes keywording to another level as it allows keywords to be applied to images, files, documents, contacts, Gmail, Apple Mail, Safari or Firefox bookmarks, weblinks, Quicktime video, and any software or application using AppleScript. To use the application once it is installed the keyboard command shortcut CONTROL/SPACEBAR brings up the Tags window. The Tags window allows you to type in as many keywords as needed and also keeps a list of frequent and favorite keywords you may have used. This is extremely helpful when tagging several files and grouping them.
Organizing projects in Tags is straightforward. Your tagged items are organized and managed in the Tag Browser that allows you to preview the selected file. You can navigate through files, preview, add or delete tags. To do a quick search for files,the keyboard command shortcut OPTION/SPACEBAR brings up Spotlight. This application makes Spotlight a robust search option as it uses an OpenMeta framework. Once you have typed in a keyword all of the tagged items will be organized according to  file type in Spotlight. Double click on the file and it opens in a browser window.  This feature is beneficial when working on several projects at once and keeping track of all of the data related to a project.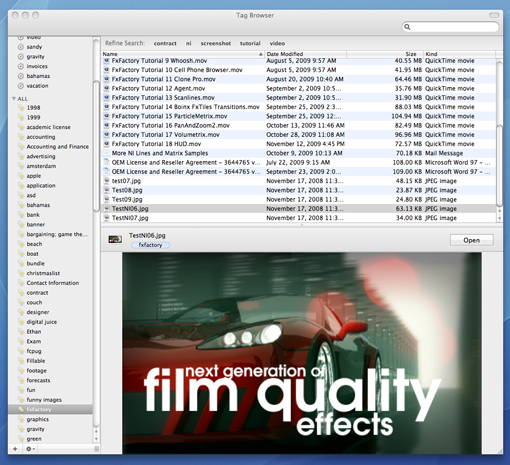 The Tags user interface is clean and intuitive. Tags v.2 runs only on Snow Leopard and although I have had other applications that have been a little buggy with the new 10.6.6 OSX update, this was not the case with this application. I wish it worked with my Lightroom 3 keywords or with my iTunes and iPhoto smart folders. Currently there is only support for Mail smart mailboxes.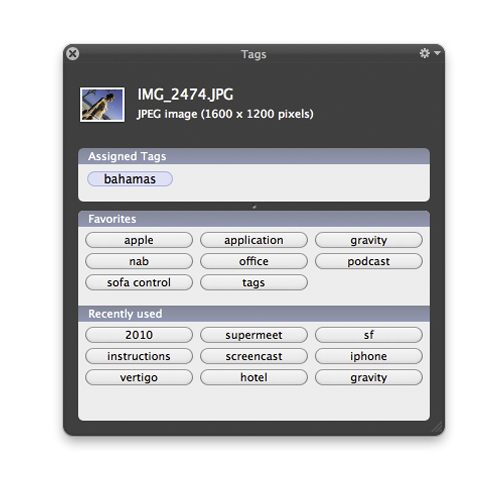 I did give this application a workout when I wanted to organize a recent photography project. I tagged all of my images, emails, documents, and contacts associated with the project. It saved me an incredible amount of time having all of the files immediately at my disposal. Besides it is a lot of fun tagging nearly every file on your Mac. This is a great application with a lot of potential.
MyMac Review Rating: 7 out of 10